The Visual Blight On Mauna Kea

By
.(JavaScript must be enabled to view this email address)
Wednesday - July 12, 2006
|
Share

Del.icio.us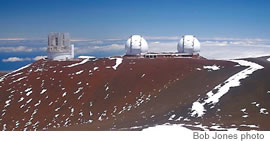 The telescopes atop Mauna Kea
Mauna Kea is not a sacred place so that telescopes atop it are a sacrilege. It's a mountain, It was there long before Polynesians began voyaging, so it cannot be the father or the mother of that race.
It is, however, a distinctively beautiful place that should not have been marred by ugly structures visible from below.
Go to South Kohala in the late afternoon and look up in the rusty glow of the setting sun. The older telescopes are invisible or even gracious orbs atop the 14,000-foot mountain. The structure that supports the NASA infrared scope, however, presents a battleship-bridge-broadside profile.
Somebody screwed up in allowing that one.
You know why. There's big money as well as big science at stake. That's why the $28 million Imiloa Astronomical Center in Hilo has mixed in Hawaiian social aspirations with its science exhibits. It's a unsubtle ploy to bring Hawaiians aboard on telescope expansion atop the mountain.
(Here's a notable coincidence: Imiloa was the name King David Kalakaua gave to the student-manned gunboat he bought for $20,000 for his nutty idea of conquering all the Pacific islands!)
I'm not dissing the whole center. It's an architecturally stunning project by Mel Choy of Durrant-Media Five. It has an astounding planetarium and a million-dollar, 3-D voyage through the universe that every child and adult should experience. Too bad about the very poor attendance so far. Nobody can find it.
My problem is with the exhibits of Hawaiians talking about being Hawaiian, singing, playing guitar and ukulele, and in language immersion class, and a show on the Kumulipo, the creation chant. Those obviously were tossed in to try to dampen the protests that the roads and scopes have desecrated the home of the snow goddess Poliahu. They have nothing to do with astronomy.
There are 13 working telescopes near the summit. Nine for optical and infrared astronomy, three for sub-millimeter wavelength astronomy, and one for radio astronomy.
That NASA hunk of ugliness does house an important scope. One scientist writes that "data can give us a more secure measurement of how rapidly young galaxies form stars than we can get from the ultraviolet radiation now reaching us as visible light."
Gee, that's great. But at a visual-blight cost.
The facilities sit on Hawaiian Kingdom land ceded to the state in 1959 and leased at a dollar a year to the University of Hawaii.
I don't get excited about the mythology of the mountain or even about the small, unique bugs that live there and might sometimes get squished by a foot or a vehicle tire.
I am shocked by that sunset view from South Kohala, that ugly square structure that looks up close like the set for one of those miners-on-Mars science fiction movies.
In those movies, alien creatures usually come and suck the blood of the humans and destroy their horrid buildings. I know that in the case of Mauna Kea, the humans will multiply and so will the buildings.
That's a scenario that the Imiloa Astronomical Center (if you can find it) doesn't address.
Most Recent Comment(s):