The Wrong Way To Investigate Crashes

By
.(JavaScript must be enabled to view this email address)
Wednesday - August 23, 2006
|
Share

Del.icio.us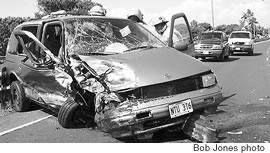 A crash such as this can close down the road for
hours
To: Honolulu police chief Boisse Correa
Sorry, chief, but this guy who did many stints as a police reporter here and on the Mainland isn't buying into your need to close highways four to six hours to investigate a traffic fatality.
I drove by an H-1 fatality near Kapolei. A car had flipped over on the grassy area by the divider. It was obvious that the ejected person was dead. Traffic was moving just fine.
Then your people arrived and they closed traffic lanes for four hours.
It's gotten ridiculous as we've had more traffic and therefore more fatalities.
If you were talking about a true mystery homicide, I'd agree. You need the scene to be scrubbed for footprint and tire clues, gun cartridges, fibers and blood - not where one or two cars have crashed, somebody's dead and no driver has fled the scene.
The technology is there for time-dated digital photography and computer-aided drawing software to reduce the time for your investigators to keep the highway closed. The California Highway Patrol gathers evidence and has everything moving at a traffic fatality scene in 60 minutes tops.
When 42nd District Rep. Rida Cabanilla pushed a bill this year for a dedicated traffic fatality investigation unit, the latest equipment and the funding for it, you and your people were downright dismissive.
"There's a body at the scene, and you have to wait for the medical examiner and you can't move it until then. No matter what happens, we're always going to be criticized," you said.
Maj. Susan Dowsett of the traffic division told lawmakers that "from what I understand, we're using the industry standard (for investigations.) I don't think there's any other technology that would speed things up more than what we're using already."
Even longtime West Oahu activist, Neighborhood Board member and House candidate Maeda Timson went limp on the idea of limiting closures.
"If they're the experts and they need the time to do a thorough job, that's what they need to do," she said, adding that body removal takes time. "You need to have dignity and not have it open to the public to gawk at someone."
Baloney!
Rep. Cabanilla's much better idea is to have experts who can quickly laser-measure and photograph the scene and then reconstruct the accident on computers back at the station. That way, you get traffic moving quickly.
But we know Honolulu. Getting anybody to change the way they do things is like changing the direction of a meteor.
The police say "well, we want to do it right; well, we don't want to miss anything; well, we want to be prepared for anything in court."
Nobody ever says "move the dead to the morgue, the injured to the hospital, measure, photograph and get out of there." Dead is dead.
Unless there's reason to suspect foul play, you don't need the medical examiner on scene to say "yep, he's (she's) dead."
The $400,000 appropriation bill died in the Senate.
Chief, you can clear fatal accident scenes in one hour or less, and you know it. You're doing old-fashioned, Hawaiian-kine foot dragging.
Most Recent Comment(s):