This Race Looks Like A Doozy

By
.(JavaScript must be enabled to view this email address)
Wednesday - June 17, 2009
|
Share

Del.icio.us
Neil's in for governor. Now Mufi's in. But you knew about the latter if you read my April 1 MidWeek column. I said Mufi's in. The daily newspapers are just catching up. This looks like the damnedest primary race in Hawaii since Jack Burns and Tom Gill. And the money spent on newspapers, TV and radio ads will stagger you. Oooh, the tens of millions!
Abercrombie is hindered for now because he can't yet transfer his federal campaign money into a state run. Hannemann is legally able to immediately transfer his $600,000-$700,000 surplus into his governor campaign.
My amazement is that all those daily paper reporters who claim to know so much never said, "Mufi is definitely going to run against Neil for governor." Tone deaf?
But now that they've caught up to us, some other matters:
Labor. Abercrombie is a supporter of card checks to allow unionization by signing a card rather than by secret ballot. Hannemann? I'm told by a person who was in an after-mayor-election meeting he had with the United Public Workers that he agreed to appoint a new parks director because the UPW was unhappy with the old one, who had increased supervision of parks maintenance crews who weren't doing much maintenance.
Ask them about these issues: Our city and state governments are wage-and-benefits burdened, and we can't let government go into bankruptcy, can we? Yes, we can, but the usual avoidances are higher taxes, furloughs or layoffs, or sloughing off some of that retirement and medical burden. The idea of more taxes just to pay government employees only seems popular with the public employees and sympathetic lawmakers. It would send people out in the streets - and not just with teabags!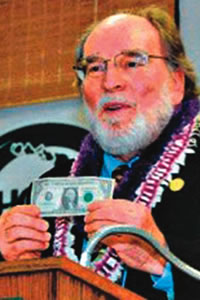 U.S. Rep. Neil Abercrombie
We've needed to return to the system whereby the HGEA and the UPW non-emergency units would have to strike if they don't accept the government's contract offer. Arbitration has not worked. I'd rather see a painful strike from time to time. The pay loss reminds the unions of the cost of hanging tough. The loss of services lets us see what we can or cannot afford to do without.
But no reform in 2010 because the stars are aligned for a Democratic governor and a Democratic Legislature allied with the public-worker unions. Even the UH professors'union will come back into line next year as Gov. Lingle is bowing out.
I don't begrudge public workers fair wages and benefits that don't exceed what's available in the private sector. But when those costs make up 70 percent of the state budget, something should be downsized. Those regular arbitration awards and automatic step increases become affordable only at the expense of schools, infrastructure and Medicaid.
The Royal Hawaiian Band will cost us city taxpayers $2,197,968. Rather have that or the property tax credits?
To those who suggest we raise the general excise tax, keep in mind that we tax food and medicine, and an increase would fall hardest on the poorest and sickest.
Most Recent Comment(s):