Those Brash New Boys Of Hula

By
.(JavaScript must be enabled to view this email address)
Wednesday - April 02, 2008
|
Share

Del.icio.us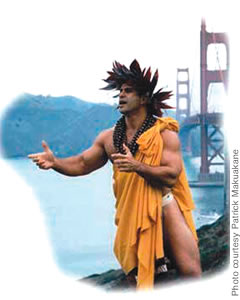 Patrick Makuakane: too edgy for Merrie Monarch?
Nobody electrifies a Merrie Monarch audience quite like kumu hula Mark Kealii Hoomalu of Aiea and now of Oakland, Calif. Not Johnny Lum Ho and not Sonny Ching.
Yet, his halau style and energy generally get only mediocre scores from the judges. The year one local kumu was convicted of sexual abuse of boys in his care, that kumu was invited back to the hula festival. Mark Hoomalu, clean as a whistle, was not even considered.
Hoomalu, along with another Hawaii hula master who's made California his home, Patrick Makuakane of Waimanalo, are simply too edgy for many of the tradition-bound people who set the standards for our Merrie Monarch Festival in Hilo. Nice, wonderful people, but I feel they're out of touch with the new hula mau. It's not what they grew up with, and I can understand that.
But Hoomalu says he just cannot leave tradition alone, and I'm on his side. "If you don't progress, you will lose the future," he says. His progression is to give the male chant a kind of syncopation, melody and rhythm that moves Hawaiian music into striking distance of modern music. It makes the Merrie Monarch audience rise to its feet in wild applause, but pains many of the old-timers.
His first recording, Pookela Chants, was a shocker as it reached local ears. So was his idea of Hawaiian music for the movie Lilo and Stitch.
But we need to get used to him because I suspect he and Patrick Makuakane (who did a mix-and-match Hare Krishna mele hula in an appearance at the Hawaii Theatre and again packed the place last month for Daughters of Haumea) are where the loyalties of this state's young music ears are heading.
Mark Hoomalu moved to California in 1979 to teach with Tiare Clifford of Tiare Otea in San Francisco. Then he was introduced to Bea and Herb Hew Len. In 1988, the Lens turned over their halau, Na Mele Hula Ohana, to Hoomalu. He left that in 2002 but a year later began anew by founding the non-profit Academy of Hawaiian Arts in Oakland. Its mission is to offer instruction in dance, music, composition and language. Hoomalu also set up MKH Productions, a production and publishing company for his music and dance production projects.
Dancers of the Academy of Hawaiian Arts established their reputation quickly by taking two first-place awards at the oldest and largest international hula competition in the western U.S., Ia 'Oe E Ka La, in Northern California.
That also brought Hoomalu some controversy. Not all Hawaii kumu approve of his departure from what's considered "right" about hula and chanting. But the Merrie Monarch Festival hasn't been able to ignore him any more than any other competition can ignore a performer who is different but wows the fans.
In his first Merrie Monarch appearance, he won no prizes but set the audience afire with his humming chant style described in a review as "having elements of Marine cadences, jazzy syncopation and deep-chested charisma. His hula kahiko (ancient) style was similarly unique, with a drill-team aspect of quick, straight-limbed movements. The one 'uli'uli style had both the female and male dancer constantly passing a single feathered gourd from one hand to the other, as if presenting arms."
Hoomalu explains his style this way:
"The judges have told me for the past five years that 'your dances should be pleasant and stately,'and I never have a chance to explain to them my reasons why I'm like that. But I tell my kids it doesn't matter what they say. When we dance our style, we're saying 'I'm not happy about losing all our lands, and I'm not happy about losing my queen.' When I come out and dance, I keep that in mind."
Here's what Dennis Oda of the Star-Bulletin wrote about his interview with Hoomalu and his impression of the Merrie Monarch performance:
Hoomalu said "I don't come out looking pleasant, I come out looking serious, to let them know I mean business. And if I was back in that time too, I would look just the same."
"It's almost hard to hear his chanting because it's so mesmerizing. His voice, his style, everything, it just gives you the urge to wanna learn more," said his dancer, Audrey Makamae Fangonilo of San Jose by way of Waipahu.
"The Hilo audience enthusiastically greeted the 'ai kupa'a (firm style) hula of the Oakland troupe."
I enthusiastically look forward to more of Mark Hoomalu this year - I hope!! Patrick Makuakane at all? That might be hoping for too much.
Most Recent Comment(s):