Trade Center Suit A Sad Commentary

By
.(JavaScript must be enabled to view this email address)
Wednesday - March 17, 2010
|
Share

Del.icio.us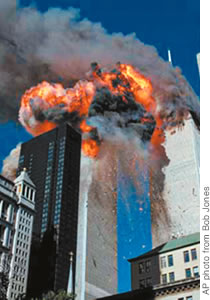 World Trade Center rescue workers are suing the city
All I can think about this one is "Oh, my God, America, what have we come to?"
The people who worked as rescuers at ground zero on Sept. 11, 2001, at the World Trade Center sued for being sickened by dust and got $650 million in a settlement with the city of New York.
You save your people from death and destruction and then sue your government? Three thousand of your people die and you sue your government?
I'm thinking of the people who worked the fire bombings of Tokyo and Dresden during World War II, who were smothered by ash and killed in collapsing buildings.
And all New York Mayor Michael Bloomberg has to say of the settlement is that it's "a fair and reasonable resolution to a complex set of circumstances. The resolution of the World Trade Center litigation will allow the first responders and workers to be compensated for injuries suffered following their work at ground zero"?
Am I missing something here about America and Americans?
If we'd had a tsunami disaster in Hawaii last month and I'd have helped you and been hurt, I'd sue the state or the city? You've gotta be kidding!
Again, I ask: Oh, my God, what's happened to us?

Time and tinkering have made more people less comfortable with the Akaka Bill - except for the 245 yea-sayers in the U.S. House out of 430 voting members. That's right, five seats are momentarily empty, including one from Hawaii. The U.S. Senate hasn't scheduled a floor vote. Gov. Linda Lingle, formerly a supporter, is lobbying against the bill.
It's dead in the water because it should be. It lumps Native Hawaiians in with American Indians. New language problems in the bill would seem to give Native Hawaiians the essence of sovereignty even before they negotiate their status with the state.
That could create nightmares for our courts, which have disallowed all claims of sovereignty or separate citizenship.
It's too divisive, does not rest on a solid legal foundation, and I fail to see where it really advances social issues for Native Hawaiians that trouble us all - less-than-great health and a high rate of imprisonment.
We'd be better off with universal health care, which would cover every Hawaiian (and everyone else), and continuing the cultural renaissance of the past three decades - promoting Hawaiian language, dance and traditions.
Passing Akaka is popular with most Hawaii politicians. But is it right? I don't think so, and neither does a large bloc of Native Hawaiians that sees it as an artificial OK of the overthrow of the monarchy on Jan. 17, 1893. I'd just say it's not a corrective for what ails us as an integrated community.
Get over 1893. Get on with today.
Most Recent Comment(s):