TV Film Censors, Doggone Pleased

By
.(JavaScript must be enabled to view this email address)
Wednesday - September 20, 2006
|
Share

Del.icio.us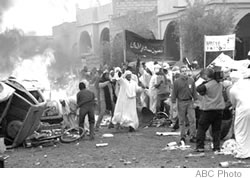 9/11 TV drama riled up some Democrats
It was alarming to see high-level Democrats pressuring ABC Television/Disney to re-edit or cancel that 9/11 mini-series.
Hey, guys, it wasn't a documentary. It was a movie done in the style of Oliver Stone's controversial flick JFK, his claim of an assassination conspiracy.
Our television two-nighter had Democrats fuming because of scenes showing the Clinton administration chickening out on a snatch operation on Osama bin Laden.
Former Secretary of State Madeleine Albright and former National Security Adviser Samuel Berger said the TV movie alleged things that were not true - in their version of events.
"Do the right thing for the country and pull this despicable work of fiction from the air," is what Bill Clinton's spokesman wrote to ABC. Clinton personally said "I don't want any lies in there parading as truth, that's all."
It's OK to be critical of movies. But this was a nasty effort to censor or kill this movie. Senate minority leader Harry Reid - who would become majority leader if Democrats win in November - chimed in for cancellation. ABC is a regulated business and its parent, the Walt Disney Co., always has issues before the Congress. Reid was firing a warning shot that clearly said "mess with us Democrats at your peril."
Three years ago, under criticism by Republicans, conservative commentators and Ronald Reagan's family, CBS cancelled a Reagan mini-series.
We should scream bloody murder anytime politicians or the politically connected try to censor what we can see, read or hear.

So why was I quietly and somewhat ashamedly pleased (the Germans call it schadenfreude) that bounty hunter Duane "Dog" Chapman was indicted and arrested?
I'm not sure. Is it all his chains and geegaws and that huge sheriff-like star he wears around his neck on a leather strap?
No, I suspect it has to do with my inherent dislike of citizen vigilantes, especially when they turn what might be quiet help for police into a "Hey, Look At Me!" circus.
He has a local publicist, Mona Wood, to praise him and an A&E reality show to pay him and make him a celebrity.
Ms. Wood points out that he's not one of the bad guys, but he catches bad guys. But in the current case he caught a fugitive American in Mexico and had him transported to the U.S. The Mexican government calls that kidnapping.
And "Dog" fled Mexico after posting bail. That's called bail-jumping and no bounty hunter nabbed him - just an old-fashioned U.S. marshal.

Does an Oahu rail line make sense if it doesn't go to Ewa Beach, Mililani, Hawaii Kai and Waikiki (over the bitching of taxi drivers charging $30-$40) but still costs $3 billion or more?
Shouldn't we bite the tax bullet and do it all? It won't cost less later.
If it's only to be from the new UH-West Oahu campus to downtown, we might be better off with special bus lanes on a high-occupancy flyover for much cheaper.
Most Recent Comment(s):