UH Academics Suffer For Sports

By
.(JavaScript must be enabled to view this email address)
Wednesday - January 16, 2008
|
Share

Del.icio.us
Anybody out there willing to say that the University of Hawaii doesn't need a Division 1-A football program, a major bucks head coach and expensive coterie of assistant coaches and trainers?
June Jones's paycheck has diminished how much we value top UH professors, deans and high-level scientists.
Do I get run out of town for suggesting we do football at the level of Columbia, Brown, Harvard or Wesleyan - all premier schools with enormous endowments despite their poor pigskin prowess?
You say our football program's income helps pay for our basketball and volleyball programs? Our athletic department has been chronically in the red.
Why not drop football back to Division 1-AA? Why not second tier in the NCAA but first tier in academics?

The Legislature convenes this week with Con-Con haunting the Capitol.
I don't have any quarrel with holding a Constitutional Convention. The trick is not to fiddle too much with a good thing, and to acknowledge that:
* Voters as a whole aren't the smartest, best-read and informed citizens.
* Voters are swayed by those spending the most advertising money or by something they read at popular but often misinformed and malicious websites.
* Con-Con shouldn't tackle populist things best left to the Legislature - public-financed elections, school board districts, environmental, development and water issues.
My fear is a Con-Con captured by incumbent politicians and special interests promoting self-enriching agendas. We'd need a huge effort to bombard us with educational materials at least as well-produced as those of the moneyed interests. TV stations must provide lots of free time.
Consider multi-member districts. Elect at least two delegates per district so that No. 1 and No. 2 get in. Our Legislature was much better when we had that, and we should go back to that. It gives us more voices.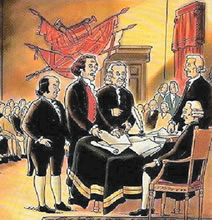 'What if the Con-Con elects some total moron?'
Con-Con could be a good thing. Can you handle whatever it engenders? Some of you still smart over the 16th Amendment to the U.S. Constitution, the one that says:
"The Congress shall have power to lay and collect taxes on incomes, from whatever source derived ..."
That gave us the Internal Revenue Service.

A few words about ethics and lawmakers.
So many of our lawmakers have ethical lapses. They say they should accept gifts or skybox stadium seats from well-wishers. They see that as their due as important personages.
If your lawmaker hasn't been saying "no," boot him or her out of office. He's also saying
"yes" to people who do not have the average person's interests at heart.

This Legislature should examine the whole philosophy of the grants-inaid program, not just the mechanics of handing out the money to nonprofits.
The aid should go to people helping people rather than cultural organizations that can fund-raise through private sources.
Why give Bishop Museum $9 million, the Arizona Museum $2 million, the Pacific Aviation Museum $500,000, the 100th Infantry and 442nd RCT clubs $1.62 million or the Hawaii Chamber of Commerce $400,000?
We only gave the very productive, anti-gang Adult Friends for Youth $295,000 from 2003 through 2007.
And among the people-helping-people applicants, is anybody measuring success, or just the number of people in the front door and out the back one?
Shouldn't we try a new approach? Perhaps giving the grant money to the Hawaii Community Services Council with guidelines and a mandate to measure success for reapplications?
Let the museums and clubs tap private supporters rather than the public till.
Most Recent Comment(s):