Vaccines And Autism; A Shield Law

By
.(JavaScript must be enabled to view this email address)
Wednesday - February 06, 2008
|
Share

Del.icio.us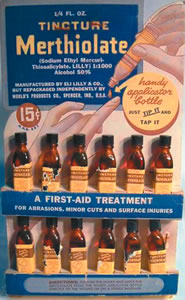 Remember when we all used mercury for cuts?
One of my major sources of fear and loathing is Americans jumping on snippets of medical information and chunks of medical dis-information and then leaping to bad conclusions.
That's the case these days with autism, a disease that inhibits communication and often leads to schizophrenia.
Hollywood discovered it as an illness du jour and TV did, too, last week with a medical drama repeating the shibboleth that autism is caused by the mercury-based preservative thimerosal in childhood vaccines.
If you read all the science evidence and not just what suits your bias, you'll find there's nothing worthy of concluding that vaccines cause autism, and everything which says vaccination of your children outweighs all other considerations.
Besides, science is closing in on autism and the clues all point to a DNA culprit, not mercury or bad well water.
But it's hard to sell that to parents of autistic children who are hurt, suspicious, driven by spurious websites and anxious to pin the blame somewhere other than their own genetic pass-throughs. Thimerosal is a convenient scapegoat because it's 50 percent ethylmercury. Yes, same stuff that was Mercurochrome and Tincture of Merthiolate we all used for our cuts because it didn't burn like iodine. The mercury quickly disappears from the bloodstream after a vaccination or topical application and doesn't accumulate in the brain.
Still, you'll find many parents of autistic children who think there's a conspiracy to protect Eli Lilly & Company, the seller of thimerosal, an ingredient in diphtheria, pertussis and tetanus shots for young children.
We don't even have a handle on how many Americans have autism. Symptoms vary, and diagnosis tends to be very subjective. Maybe half a million or maybe 1.5 million.
Movies discovered it. We've had Rain Man, Snow Cake and Mozart and the Whale. Lanikai film maker Don King produced Beautiful Son. And last week, ABC's new series Eli Stone, with what I'd say is myth-as-fact that vaccines cause autism. Pediatricians have hollered foul. I agree. Bad science in popular TV sets off the "I told you so" crowd in much-too-little-informed America.
If you're an adult my age, perhaps you remember when erroneous reports in England linked the measles vaccine to autism, trickled down to the U.S., caused a decline in vaccinations and the worst outbreak of measles in two decades.
You'd hope that the health information presented on non-documentary TV shows or in the movies would not influence parents' decisions about their childrens' health care, but we know that's not the case. People do rush to their doctors after they see those commercials that tell them to "ask your doctor if Vytorin is right for you."
We're among the richest and best-fed people on the planet, but not among the smartest about our health decisions.
If you withhold vaccinations from your child because of a fear of autism, that's a very bad decision.

In principle, a Hawaii shield law would be good for reporters. It would allow them to keep sources confidential. There are a couple of major obstacles. Who's a journalist? Every Tom, Dick and Henrietta who does a regular blog of "newsie" stuff? No, I'd have to suggest the law only recognize those who have editor oversight. Not self-oversight, either. That editor must agree to the confidentiality.
And I'm troubled by an old Honolulu case. A TV reporter named an alleged crime godfather here and claimed source confidentiality when sued. That was unfair to the plaintiff. So maybe a shield law should not apply where there's potential libel or slander.
I'd go for a shield law in the Pfleuger-Hawaii Reporter case where a journalist's notes are being sought for defense purposes in another lawsuit.
If we can easily navigate these shoals, then yes to a shield law. Otherwise, let it sit and stew a while.
Most Recent Comment(s):