We Need A Waikiki 'French Quarter'

By
.(JavaScript must be enabled to view this email address)
Wednesday - October 14, 2009
|
Share

Del.icio.us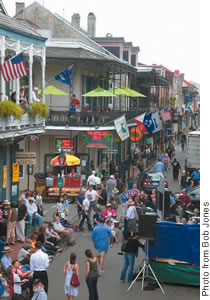 A street scene in the French Quarter
I spent time in New Orleans and its French Quarter recently (actually, it's a Spanish Quarter with a touch of Italianate architecture).
That made me think: Why don't we develop a similar "let the good times roll" special quarter in Honolulu, where we encourage (rather than discourage) street performers, where we have cocktails to go and allow alcohol to be carried in the streets if it's in plastic containers, and where we have many open-to-the-sidewalk cafes selling Hawaii specialty foods?
The special quarter cannot be along Kalakaua Avenue. The high-end hoteliers and retailers would scream. How about Chinatown? It's picturesque and we're already doing First Friday and some street events that include the sale of beer.
We need something to pep up our flagging tourism. We're sure not pulling in the visitors with the offer of a condo balcony looking onto another condo balcony.
A district with special liquor laws and other adjustments would require intensive policing against crime and rowdiness, but the revenue from the invigorated tourism would more than pay for that.
Maybe add limited gambling, too, perhaps in the form of the ubiquitous video poker machines of Louisiana? I know how the majority of you seems to feel about that, but I can't see the harm if we limit the type and geography of it.
The French Quarter, built by the former Spanish owners of New Orleans, is that port city's biggest tourist attraction. We should have one.

The lease on the Big Island's Volcano House is up for grabs the end of this year. Businessman Ken Fujiyama has had it since 1983.
I'd hope the National Park Service will say "enough of the tacky gift shops, dismal buffet and more dismal coffee-andhot-dogs lounge" and demand that Volcano House become a touristic draw like Yellowstone Lodge.

Our revenue problem has forced the state into layoffs and job consolidations. The question is whether the next governor will have the moxie to make cutbacks permanent and reform our bad habit of government as the "iron rice bowl" employer.
It's a marvelous opportunity to reduce the bloat. But remember how the unions blasted former Gov. Ben Cayetano when he tried that?
Lead 2010 potentials Neil Abercrombie and Mufi Hannemann play heavily to union support, so I'd be pleasantly surprised if either endorsed downsizing reform.

We pay UH head football coach Greg McMackin $1.1 million a year. Lousiana Tech pays the coach whose team beat ours, Derek Dooley, $400,000 a year. Idaho's paying Robb Ackey $250,000. Bronco Mendenhall at powerhouse BYU gets $650,000. Think about it.

Kudos to Ron Bright and Marcelo Pacleb for a fantastic staging of West Side Story at Paliku Theatre. Our town is blessed to have those towering talents mentoring our young actors, singers and dancers. Live long and help us prosper, Ron and Marcelo!
Most Recent Comment(s):