Where's The Law Enforcement?

By
.(JavaScript must be enabled to view this email address)
Wednesday - October 19, 2011
|
Share

Del.icio.us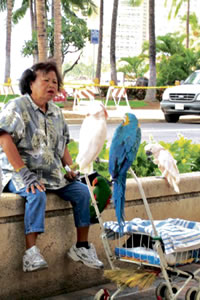 The parrot lady is a peddler
Something's gone haywire out there and we should be getting mad as hell about it.
* In Waikiki, police ignore all those peddlers of every sort, from parrot photos to artists-for-hire because we've never passed a law against performance-selling on city sidewalks. So they set up chairs and stands and compete for sidewalk space with pedestrians. Very ablebodied young people have begging stations, claiming to be hungry but appearing exceptionally fit.
* In a recent survey for the nonprofit Malama Maunalua, 96 percent of experienced fishermen say the state DLNR does no enforcement of fishing laws in that Hawaii Kai bay. They know of no citing of violators.
* Chris Barclay sells Tshirts and Mitch Berger sells hikes inside Diamond Head crater without permits. Our state parks people shrug their shoulders and let them be.
* The homeless make a mockery of the law we have restricting living on Aala sidewalks, in Pawaa Park and Old Stadium Park. Our city lawmakers are considering allowing confiscation of property stashed on sidewalks and in parks but ...
"This bill makes it illegal to be homeless and it affects all of our rights to be free here in Honolulu," complains the American Civil Liberties Union's Daniel Gluck.
We are spinning out of control from what seems to be fear that the ACLU will cry "fascists."
Maybe it's a mindset going back to our bad old days when just being a union advocate made you a communist and candidate for jail. That was a time when we were lucky to have the ACLU. These days, we're tolerant to the point of paralysis.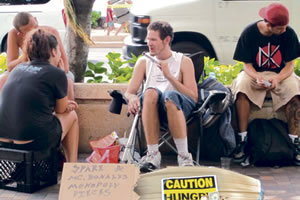 Youthful folks asking for money. Photos by Bob Jones
Letting people with access to public shelters set up housekeeping in parks and on sidewalks is not good. Neither is allowing Chris Barclay to sell T-shirts, and Mitch Berger to sell commercial hikes on the public land at Diamond Head, nor allowing fishing violations in Maunalua Bay because DLNR can't handle wildlife enforcement, nor ignoring that our Waikiki sidewalks have become commercialpeddlers' heaven.
I don't expect much from Gov. Neil Abercrombie. He appointed an untested smallboat harbormaster to run the giant squid-like DLNR. I don't expect much from Mayor Peter Carlisle because ... well, because I'm beginning to suspect he was promoted beyond his abilities.
We need a little backbone. We should not accept a society that tolerates the "droogs" of that classic novel and movie A Clockwork Orange.

Does anybody care what religion a presidential candidate has? Not so much here, but it's still a litmus test elsewhere.
Mormons seem strange to some Christians. Mormons have the Bible but also the Book of Mormon detailing Jesus Christ's visit to North America. Barry Goldwater was a Jew, but his politics rather than his religion did him in.
I don't think we're ready for a Muslim. Or anybody who professes non-belief although I suspect there are more of those on the quiet in politics than we know.
Most Recent Comment(s):