Who Will (And Won't) Win An Oscar

By
.(JavaScript must be enabled to view this email address)
Wednesday - January 26, 2011
|
Share

Del.icio.us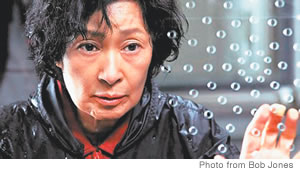 Kim Hye-ja in the Korean movie 'Mother'
This Tuesday (Jan. 25) at 3:30 a.m. Hawaii time we get the Academy Awards nominations, even though big-buzz movies Another Year and Biutiful have not yet played here.
I like movies that make me ponder the human condition. I feel that 2010 was the bleakest year since I started doing these picks - kids training dinosaurs, wise owls, Wall Street II and a True Grit remake with Jeff Bridges channeling John Wayne as a drunk. Natalie Portman should've suddenly sat up and sung "Swanee, how I love ya, how I love, my dear ole Swanee" in white face in the final scene of that hallucinogenic Black Swan. No Oscar, Nat.
And why didn't we in Hawaii get Barefoot in Tumbuktu, The Girl On The Train, North Face, Saint John of Las Vegas, Dream Boy, Godspeed or Bluebeard?
From what we did get, these are my picks:
Best American Picture: Catfish. It's done in the manner of a documentary but it was perfect for our social media times. Second best: The Fighter.
Best Foreign Pictures: Mother from South Korea.
Animal Kingdom an Australian masterwork.
Best Actors in an American Film: Robert Duvall (Felix Bush) and Bill Murray (Frank Quinn) in Get Low. Christian Bale (Dickie) and Melissa Leo (Alice) in The Fighter.
Best Actors in a Foreign-made Film: Kim Hye-ja as the mother in Mother. Tilda Swinton as Emma in I Am Love. Colin Firth as Bertie in The King's Speech.
Best Supporting Actors: Why this category? Great acting is great acting. I'm ignoring it until they let everyone become eligible for nomination as Best Actor. Similarly, why a gender differential?
Best Director: David O. Russell for The Fighter.
Best Documentary: Sebastian Junger's Restrepo, 94 gripping minutes that showed us high and low moments from his 14 months with an Army platoon in Afghanistan.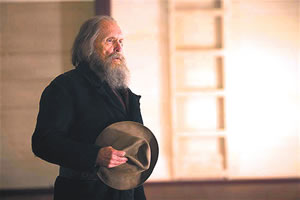 Robert Duvall in 'Get Low'
Best Special Effects: Inception. Just not a great movie.
Best Screenplay: Scott Silver and Paul Tamasay for The Fighter.
Best Cinematography: Adam Kimmel for Never Let Me Go.
Best Pre-2010 Foreign Film Shown Here in 2010: China's Assembly, first-rate war photography, shown only at the Doris Duke Theatre.
Best Horror Flick: Call me crazy but I liked The Crazies. All the best elements of a zombie flick.
Best Animation: That's a walkaway. Toy Story 3.
Most Fun Movie: Red. Helen Mirren and John Malkovich obviously had a good time making that one.
Worst Big Star Movie: Martin Scorsese's Shutter Island, with Leonardo DiCaprio, which made no sense when it was over.
Worst Movie Critic: Anthony Lane of the New Yorker. He's in love with his high-voltage verbiage. Then there was the former Advertiser's Kawehi Haug, who called a movie "wonderfully warped soul whose ill-fitting parts clank and clatter against each other in dark, kooky and melodic chimes."
Most Recent Comment(s):