Why It's Hard To Hear On TheBus

By
.(JavaScript must be enabled to view this email address)
Wednesday - February 07, 2007
|
Share

Del.icio.us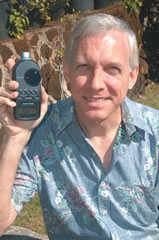 Richard Foulk and his meter
Richard Foulk of St. Louis Heights says city buses are too noisy inside.
He's out there measuring with his Radio Shack 33-2055 Digital Sound Level Meter which is accurate to within +/-two decibels.
The only federal regulation for buses is the occupational safety one that says: "The interior sound level at the driver's seating position of a motor vehicle must not exceed 90dB."
Foulk has readings way above 90 in the middle and back of our buses.
"It's no wonder no one wants to move to the back of the bus," he says. "The engine and air conditioner noise there is literally deafening."
Here's a sampling of his readings:
* Jan. 9: 7:18 a.m., bus 339, route 9, 93 dB; 7 p.m., bus 45, route 14, 100 dB.
* Jan. 11: 7:05 a.m., bus 44, route 14, 98 dB; 7:11 a.m., bus 689, route 9, 100 dB; 4:45 p.m., bus 542, route 1, 101 dB; 7:20 a.m., bus 549, route 9, 102 dB.
* Jan.12: 4:40 p.m., bus 673. route 9, 94 dB; 5:15 p.m., bus 8, route 14, 100 dB.
* Jan. 16: 7:33 p.m., bus 527, route 1, 99 dB.
Foulk got readings of 93 and 102 at the front of the buses, too, so all drivers aren't immune from long-term ear damage.
To give you decibel comparison, 80 is your alarm clock or sink garbage disposal. Ninety is a food blender. One hundred is being next to a pneumatic drill on road work.
One solution would be to swap out those noisy, belt-driven air conditioners. Then the bus-stop announcements would-n't have to be set so high to be heard.
Noise isn't an insignificant health issue, so cheers to Richard Foulk for bringing this to our attention.

My column about the humbug of drivers' license renewal got plenty of feedback.
City customer services director Jeff Coelho asked for more detail.
Let's see if anything happens or if this is one of those "we're looking into it" things.
A former Honolulu policeman e-mails:
"I've got an Arizona driver's license. It is good until I'm 65 years old. That's the common sense way that Arizona tackles that problem."
Others wrote that the underground King Street and Hawaii Kai satellite city halls do licenses very fast. That sure ain't the case out at the Dillingham Boulevard main office.
Honolulu resident Shannon Wilson hit it on the head: "Your description of the license renewal scene was so graphic, so real and, oh, so too familiar. But how do we budge bureaucracy, which appears so self-, not public-serving?"
Well, Shannon, we could do it as the State Department does passports. Send in your old one with an application and a new picture and they send back a new one.
And why not online, credit-card bus pass renewals for seniors?
Why have clerks opening all those envelopes and logging in checks?

The 1968 military trial of Air Force Capt. Dale Noyd can be expected to set the legal framework for the coming court martial of Honolulu Army Lt. Ehren Watada for disobeying an order.
Noyd - who died this month at age 73 - had refused to train a pilot headed for the Vietnam War.
The military would not let him resign his commission, claim conscientious objector status or object to the war as illegal. Noyd got a year in prison and a dishonorable discharge.
My guess is that's the penalty Watada will pay for refusing to go to Iraq with his unit.
Conviction is a 99 percent certainty.
But four years?
Doubtful.
It will be that dishonorable discharge that probably will sting the most in Watada's later years.

Mea culpa: My Jan. 31 column put teachers and university professors among unions that must arbitrate with the state. Only HGEA and UPW have that. HSTA and UHPA retain settle-or-strike provisions.
Most Recent Comment(s):