Wild And Wonderful West Virginia

By
.(JavaScript must be enabled to view this email address)
Wednesday - March 09, 2011
|
Share

Del.icio.us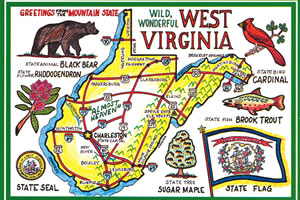 As you're reading this, summer vacation planning is just starting to get your attention. So I offer my suggestion for a wild and wonderful West Virginia trip with tent or RV. I'm a tenter, but we of the portable ground shelters are getting scarce.
Best fly-in sites from Honolulu: Richmond or Roanoke, Va., go west and enter the Mountain State on I-64 through the Appalachian Gap. Aim south for Greenbrier State Forest campground off Highway 60 with breakfast at nearby Granny's. Just down 60-East at White Sulphur Springs is the iconic Greenbrier Hotel. Go at 4:15 p.m. to the upper lobby for free High Tea for anyone - yes, even non-guest-me in shorts, slippahs and my Moped Man T-shirt.
Historic Lewisburg is down 60-West and nearby is Beartown State Park, an easy walk through a natural wonderland not to be missed. Your next overnighter should be Beckley via I-64. It has a city campground for tents and RVs, and adjacent coal mine tours daily, guided by ex-miners. A must-do!
Southwest from Beckley are Welch and Bluefield, which have fallen on hard times. Drive the circular back road past the old train depot of Bramwell to see what happens when people go broke and a town folds.
Then north to Chief Logan State Park with fabulous campsites, a zoo and a must-see video on the history of West Virginia. You'll learn that George Washington grabbed lots of land from the Indians before he was the Father of Our Country. My teachers never told me that.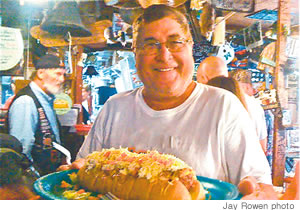 A 3-pound weenie at Hillbilly Hot Dogs
Drive Rt. 44 about 10 miles south and return from Logan to see really bad coal country poverty and the Hatfield Family Cemetery of Hatfield-McCoy fame.
Then west to Charleston for a look at a gorgeous capital complex and state museum, and camping at Kanawha State Park.
Go on a day trip west of Charleston 40 miles to 6951 Ohio River Road in Lesage, W.Va. That's Hillbilly Hot Dogs. I had the three-pound weenie but passed on the 10-pound hamburger.
Then northeast to Tygart Lake campground at Grafton. A lovely community turning ghost town on Main Street because the CSX railroad closed its nerve center there.
Go south next on Rt. 20 via quaint Philippi to Cass in the Seneca Forest region and the Scenic Railroad ride through the old timber country abandoned when the paper industry said it didn't need spruce wood any more. Camp two miles away at Whittaker's. Owner keeps a tiger on the premises!
And do visit the National Radio Astronomy Observatory at next door Green Bank. Are aliens out there? The NRAO is listening. Free tours and a great astronomy museum.
Don't be bashful about e-mailing me for more tips on this trip. Replies guaranteed when I return from my current New Zealand exploration.
Most Recent Comment(s):