100 Years Of Shobukan Judo

By
.(JavaScript must be enabled to view this email address)
Wednesday - October 15, 2008
|
Share

Del.icio.us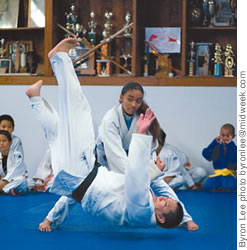 Angela Enos, 12, throws sensei Mike Maeda at the Shobukan dojo
Enduring. That's the perfect word to describe the Shobukan Judo Club of Honolulu.
Over the past century, Shobukan has endured everything from the prejudices of the Hawaii plantation era to the outbreak of World War II to a major highway project that forced it to move its home. Its many judo-ka have endured the hours of sometimes stifling heat in its tiny dojo to become both national and international champions, even Olympians.
This year, that remarkable endurance will be celebrated in Shobukan's 100th anniversary.
"We'll have an anniversary dinner, an open house and an allday tournament on the weekend of Nov. 7-9," says Michael Pi, one of the many volunteers at Shobukan. "This place has served so many families. It's very traditional. The students learn discipline built around the philosophy that you do your homework, listen to your parents and give back to your community. Judo comes next."
That philosophy of tradition and discipline began in 1908 when Shobukan was founded by Japanese immigrants who came to the Islands to work in Oahu's plantation fields. Its first home was in the basement of the old Asahi Bakery in downtown Honolulu.
Shobukan literally means "place of challenge," and the young judoka challenged themselves to master the discipline of the martial arts. One man, Sensei Sunao Migita, also known as the Professor, was the driving force - keeping the club alive despite several major obstacles by using personal funds and borrowing from relatives and other club supporters.
The club survived the challenge of WW II, a time when all Japanese martial arts were banned. Re-activating the club after the war, the Professor had to move the dojo five times, including avoiding the wrecking ball when the Lunalilo Freeway was being built. Somehow, through it all, Shobukan stayed alive and eventually found its current home tucked away in a small wooden building behind Pizza Hut in Liliha.
"Right now, we have over 200 students, and I'm sure thousands have practiced here over the years," Pi says.
Pi, a local pediatric anesthesiologist, and his wife Stacy, a pharmacist, wanted a place where their twins, Micah and Kessinee, could learn tradition and discipline. They all joined the club three years ago when the twins were only 5 years old. Now 8 and third-graders at Aina Haina Elementary School, they practice about three to five hours a week with once-a-month tournaments.
"We thought it was important to teach our children some form of discipline through the martial arts," he says. "I'm the ring doctor for the local MMA (mixed martial arts competition), and when I asked the fighters there where I should take my kids, they all recommended Shobukan because of its long tradition of excellence. I'm so happy with it. This place gives them confidence and discipline, but they also have fun. Some of their best friends are now from judo."
Along the way, Pi has earned his own brown belt through his years of volunteer coaching. Stacy helps coordinate fundraisers and potlucks as a "judo mom."
"It's totally about families giving back. We're all volunteers here," Pi says.
The current head sensei at Shobukan is the son of Professor Migita, Lloyd Migita, who turns 70 next year. "He's a Ph.D. and a very intelligent man," Pi says. "All the black belts who learned from him come back and teach the younger students."
The remarkable dynasty of talent has included dozens of national judo champions and numerous international champions. Three future Olympians have also endured the daily challenges at Shobukan, including Taylor Takata, who recently starred in the 2008 Summer Games in Beijing.
The Shobukan 100th anniversary celebration kicks off with a dinner Friday night, Nov. 7, at the Japanese Cultural Center, followed by an open house and blessing at the Liliha dojo at 10 a.m. Saturday Nov. 8, and then an all-day tournament, appropriately named the Sunao Migita Invitational, on Sunday, Nov. 9, at Salt Lake District Park Gym.
One hundred years of dedication to excellence is worth a weekend celebration. Shobukan Judo Club keeps enduring on its way to a second century of great traditions.
Most Recent Comment(s):