The Ultimate Jock Has A Doctorate

By
.(JavaScript must be enabled to view this email address)
Wednesday - February 03, 2010
|
Share

Del.icio.us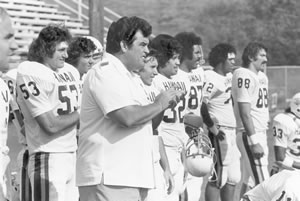 Larry Price helped guide the UH football team to an all-Division 1 schedule
How do you write about a legendary colleague? From the beginning, I guess.
That seems the appropriate place to start when writing about my extremely well-known fellow columnist Larry Price. We all know him as "The Coach" - that bigger-than-life former football star and coach at the University of Hawaii, popular morning radio show co-host on the No. 1-rated Perry and Price Show on KSSK, veteran commentator for OC-16 high school football, and noted columnist on labor affairs, politics, and other important issues on the Hawaii scene in MidWeek.
But before you can say "Katoosh," you may or may not know there's another side to the man we think we know.
He's an educator at Chaminade University. The folks at Chaminade know it well, as he's been teaching there since 1985. This Saturday night, Feb. 6, in the Pacific Beach Hotel ballroom, they'll be honoring his 25 years of teaching and educating by naming him the newest inductee into the Chaminade Sports Hall of Fame.
"It must have been a lean year for nominees," Price says jokingly when we sit down to talk about the honor after his morning show at Clear Channel studios in Honolulu.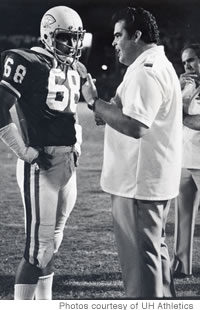 Coach Price was a no-nonsense guy at UH
But all kidding aside, it's not surprising that Price would be the perfect choice for this prestigious award - as it truly shows his great heart and thoughtfulness. You see, since he started at Chaminade in 1985, he's donated his entire teaching salary to scholarships for grad students - funding MBA students who worked and went to school at the same time.
"It's tough to work full time and have enough time and money to complete this. We've funded eight students their whole way through. They've all made it," he says proudly.
Price made it the hard way, too - all the way from his small kine days in Papakolea to his playing days at University of Hawaii and the U.S. Army teams in the 1950s. By the early '60s, he was in the Army in Europe, contemplating an assistant coaching job at a big name school in the East, when he got a call from his former Roosevelt coach Kayo Chun that the University of Hawaii was going to revive football after dropping it a year earlier.
"I was set up to go to Syracuse, but when I heard this, I was like 'Wow, I want to be a part of this,'" he recalls. For the next 15 years, he coached at UH, including stints for the legendary Clark Shaughnessey, and he was the defensive coordinator for Dave Holmes when the Rainbows earned their biggest upset victory ever, a 10-7 win at Washington when they were considered 50-point underdogs going into the game. Later, he became the head coach for the 'Bows when they made the transition to an all-Division I football schedule.
But being an educator was his goal.
"For a local guy, education is a great equalizer. If you don't have an education, you're dead meat," he says. "Even if they're a great athlete, they can dunk or run fast and make the first team, but if they don't graduate, they're useless."
Price made sure he graduated - several times. With help from the GI Bill of Rights, he earned two degrees several years after playing football at UH. First, a bachelor's degree in 1965, and then a master's degree in science education in 1971. Then, in the early '80s, he went for his doctorate of education from the University of Southern California. That's when Chaminade called him.
"I was working at MidWeek in 1985 when Cec Heftel asked me how I wanted to be remembered. I told him an educator; that's why I retired from coaching," he recalls. "But I needed a teaching position to finish my doctorate, and out of the blue, Father Rush called me. He said, 'We just had a position open suddenly. How would you like to teach a course in labor relations? It was like an epiphany. I thought, what a lucky guy. When do I start? He said 'tomorrow.'"
And since that day 25 years ago, Price has been teaching classes and educating business leaders of tomorrow at Chaminade. And all that time, he has given back his salary to help those who work so hard to earn their advanced degree.
So how do you write about a long-time distinguished colleague? From the heart, for sure. That's why Larry Price, Ph.D., will be forever remembered for his contributions to education. He is truly an educator, and also a most worthy recipient of being inducted into the Chaminade Sports Hall of Fame.
For more information on how you can join in honoring Larry Price at the Chaminade Intercollegiate Athletics Gala, call 735-4772.
Most Recent Comment(s):