A Baseball Road Trip Across U.S.

By
.(JavaScript must be enabled to view this email address)
Wednesday - July 19, 2006
|
Share

Del.icio.us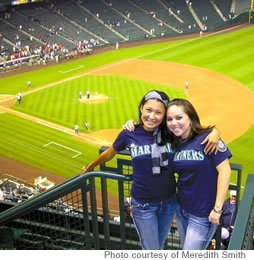 Felisa Ver (left) and Meredith Smith at Safeco Field
in Seattle
Fourteen years ago, I threw out the first pitch on Opening Day of the Windward Pony Baseball League season. Seven-year-old Meredith Smith of Kailua caught that first pitch and kept the baseball I signed perched on her dresser.
Ironically, that was the only season of youth baseball Meredith ever played, but she grew to love the game as a fan.
"I'm a stats person," she says. "There are just a lot of stats you can watch for. It's a great game."
This summer, Meredith, now 21, along with one of her best high school friends from Punahou, Felisa Ver, formerly of Kaimuki, took the baseball road-trip of a lifetime - covering the country from Boston to Seattle, taking in 20 Major League games in 19 Major League ballparks in a period of 45 days.
"We drove 8,900.4 miles," Meredith says, counting her statistics exactly.
And just how did two young women come up with this dream trip of a lifetime?
"It really started last October," Meredith recalls. "We were watching the playoffs and I was just about to graduate (from the University of Hawaii) in December. (Felisa) was graduating from Mount Holyoke in western Massachusetts in late May. Because she had to drive her car from Massachusetts to her home in Vancouver (and Meredith would be attending her graduation), we decided to make it a roadtrip. One thing led to another and we said 'Let's make it a baseball roadtrip.' It was a great graduation present to ourselves."
The two young women were efficient in their planning and set up a master schedule that would allow them to see games from Fenway Park in Boston to Shea Stadium in New York, Camden Yards in Baltimore, Citizens Bank Park in Philadelphia, Jacobs Field in Cleveland, down to Atlanta, Houston, and Dallas, up to St. Louis and Chicago (for both the Cubs and the World Series champion White Sox), across to Denver and Phoenix, and up the West Coast from San Diego through Anaheim, San Francisco, Oakland, to their final stop in Seattle on July 3.
"Our first game was the Yankees and the Red Sox on May 24 at Fenway. That game probably cost more than all the other games combined. We paid $150 apiece for tickets on e-Bay," Meredith recalls. But the two young baseball fans also picked up some coveted souvenirs. "(Yankee pitcher) Mariano Rivera tossed me a batting practice ball. And we both got to meet (Red Sox outfielder) Coco Crisp and get his autograph."
Most of the time, the two young women found inexpensive tickets. "We sat in the bleachers," Meredith says.
When they tallied the dollar numbers (for tickets, souvenirs, gas, food and motels), they spent less than $3,000 each for the entire trip.
"We stayed with friends most of the time, and some motels, and our car (Felisa's stick-shift Hyundai Accent) didn't have any problems. We got only one speeding ticket - not mine - on our way to Denver."
The two young fans had their trip so well-mapped-out, they rarely found themselves rushing from one ballpark to another.
"We had a very strict schedule and we kept to it. Usually we got to the stadium in time to watch batting practice," Meredith says. "Only once did we have to push it. We left Anaheim at 5:30 in the morning (the night after an Angels game) and drove straight to San Francisco for a 12:30 afternoon Giants game. We got there in the top of the first inning. We always stayed to the end of the game - always."
As for favorite baseball memories, Meredith says it was an extra inning game in Baltimore between the Orioles and the Yankees.
"We're both Yankees fans, and the Yankees won in extra innings," she says.
Other ballpark favorites include:
Best food: Citizens Bank Park in Philadelphia. Best beer: Camden Yards in Baltimore. Best ambiance: Petco Park in San Diego. "It was the most family-friendly park," Meredith says. "We bought T-shirts or programs at all the parks and we kept them all."
And when it came to an end at Safeco Field in Seattle, "it was bittersweet," Meredith says. "But it was long enough and we had memories to last a lifetime. Plus, I learned how to drive a stick. I got pretty great at that."
Oh, the memories of a baseball roadtrip - all 8,900.4 miles' worth. Some are now perched on a dresser top in Kailua, and all filling the memory banks of Meredith Smith and Felisa Ver from Kailua to Vancouver and practically every ballpark in America.
Most Recent Comment(s):