A Big Future For Crusaders' Smith

By
.(JavaScript must be enabled to view this email address)
Wednesday - November 01, 2006
|
Share

Del.icio.us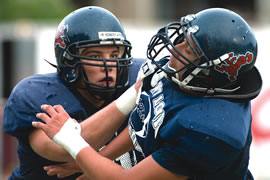 Scott Smith's hard work has been noticed by
big-name colleges
When Saint Louis Crusader defensive end Scott Smith came off the edge to make a game-ending sack in a recent win over Kamehameha, you could say his talent is all in the family.
At 6-feet-7-inches tall and 240 pounds, Scott, an 18-year-old senior, has big-time college recruit written all over him. That shouldn't come as a surprise; he's the son of George Smith, a 45-year-old heavy equipment operator who played his high school football at Kailua High, and then went on to play at the University of Colorado and professionally in the Canadian Football League before moving back to Kailua to raise his family.
"(Scott) has come a long way," George says. "He was always a tall and lanky kid. He didn't really start lifting and gaining weight until a couple of years ago. I think the best is yet to come."
Scott, who started playing organized football at the age of 10, was a basketball player, at first. "I love basketball," he says. "I think I started playing when I was about 7." This past year he was the starting center for a Crusader basketball team that made it all the way to the state tournament.
"Our goal this year is to capture state titles in both sports," he says.
Ironically, Scott gave up high school basketball for one full season two years ago in order to get bigger for football. "It was my 10th-grade year and I was only about 170 pounds," he says. "I think I gained 35 pounds in the weight room that year."
That extra weight eventually paid off as Scott became a star defensive lineman last season. This year, he's been a terrific force as the Crusaders have just earned their first ILH title in three years.
"That's huge for all of us seniors," he says. "When I first began playing (varsity) as a sophomore, we had won 18 ILH titles in a row, but we lost out that year (to Kamehameha) and then last year (to Punahou.) Everything has been great this year. We're really playing as a team."
Scott also has been playing with a great deal of heart, despite a rash of injuries and illnesses.
"I had a hip flexor for a few weeks, plus strep throat and the stomach flu," he says. The flu caused him to lose almost 20 pounds, but, he says "I would-n't miss a game for anything."
Since then, he's gained his weight and his strength back.
"He was really sick," George says. "(But) he's worked hard.
He lifts weights (a few times a week after practice) and we try to run together every Sunday."
That hard work ethic, plus his size and ability, have definitely been noticed by college recruiters. Scott says he's getting recruiting notices from Hawaii, Arizona, Washington, Oregon, Oregon State, San Diego State, Utah, Colorado and Boise State.
"I'm looking forward to the recruiting trips (after the season)," he says.
He can probably look to his dad for advice along the way.
George played offensive tackle and middle linebacker for Kailua (graduating in 1979), then went on to star at Colorado in the early '80s. He was named second-team all Big-8 for the Golden Buffaloes and was the team captain and MVP his senior season. Then, he played three professional seasons in the CFL for Montreal.
George's wife, Brenda, is also athletic.
"She's a former scholarship softball player at Eastern Arizona," George says.
Meanwhile, Scott's younger sisters Jamie (an 11th-grader at Iolani) and Jodie (an eighth-grader at St. Anthony in Kailua) are outstanding girls basketball stars with bright futures ahead for both.
But right now, the spotlight is on big brother Scott, a real blue chip off the old block.
Most Recent Comment(s):