A Bike Champ's Race To The Top

By
.(JavaScript must be enabled to view this email address)
Wednesday - August 10, 2005
|
Share

Del.icio.us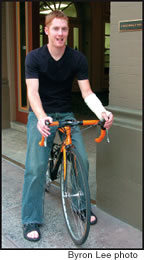 Even a broken arm can't
keep Mike Zagorski off his
bike Byron
By the time I got ahold of champion road cyclist Mike Zagorski of Waikiki, he had already had a very busy day. A full day's work as an intern architect had been followed by a two-hour bike ride.
"I fit a lot of things into a 24- hour day," he says. "I just keep motivated all the time." And nothing stops him. Not even a recent hit-and-run accident that resulted in a broken arm.
After winning two state road cycling titles on Oahu earlier this year, the 26-year-old Zagorski was training for his latest championship race with an early morning trek into Kailua. He was cycling alone along Kalanianaole Highway near Castle hospital and "the road was almost dead quiet," he recalls.
Suddenly, without warning, he was clipped from behind. "The side view mirror of a (passing) car hit my left side," he says. "I think I went into shock because I don't remember falling."
But Zagorski was bleeding profusely. "I sat alongside the road and called for an ambulance," he says. No one stopped to help.
By the time he got to the hospital, doctors told him he had suffered a broken forearm and put his left arm in a cast. They also told him to take his recovery slow and easy. Zagorski, however, doesn't take anything slow and easy.
"Less than 24 hours later, I was out there," he says. "I went indoors first, but it felt crazy being indoors, so I went out for a spin."
A typical "spin" for Zagorski is usually around 15 or 20 miles or much more. Within a few days of the accident, he went out for a planned training ride with some of his cycling friends around the entire circumference of Oahu. That's a marathon bike ride of more than 100 miles!
The pain was excruciating.
"With every pothole on the island, I could feel it," he says. "My back was sore. My neck was sore. I think the general consensus (of his friends) is that I'm crazy."
Whether you call him crazy or just stubbornly determined, he has never lost sight of his ultimate goal. Zagorski's dream is to become a professional cyclist. "I'm hoping that by next year I get picked up by a team," he says.
Zagorski began his cycling quest in the highlands of Scotland where he grew up. He came to the United States to study architecture and ended up in Hawaii about five years ago. Since then, he has raced all over the globe while logging more than 18,000 cycling miles a year.
If you do the math, that works out to an average of about 50 training miles a day, plus competition.
"It's a really nice place to ride," he says. "The perfect weather makes it a perfect training ground."
Not all is paradise, however.
"Some people think they own the road," he says. "They don't think they should be sharing the road with a guy on a bicycle. It's frustrating. Just yesterday, I was riding along the road in my cast, and a guy started yelling at me."
The abuse could be enough to send a lesser-determined athlete to the sidelines. Not Zagorski.
"I'm never giving up," he says.
With victories in the Hawaii State criterium in May and the Hawaii State time trials in June, Zagorski has turned 2005 into his year. "It's been an improvement over last season and I'm still going upwards," he says. "If (Tour de France champion) Lance Armstrong can come back from cancer, then I can come back from a broken arm."
You can follow the determined Scot's progress on his very own website at www.mikezagorski.com. That's where you'll see that his quest for cycling greatness is definitely in full gear.
Most Recent Comment(s):