A Bit Of Bonding On The High Seas

By
.(JavaScript must be enabled to view this email address)
Wednesday - May 31, 2006
|
Share

Del.icio.us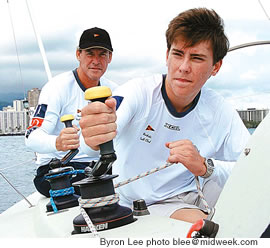 Dan Doyle (left) and son Justin will cross the Pacific
with son Sean
You can't sail the Pacific Ocean without being overwhelmed by both its beauty and its power. Kailua's Dan Doyle knows that better than almost anyone.
Over the years, Doyle has participated in sailboat races in North America and Europe, from England and France to the North Sea near Belgium, and all around the Pacific Rim, including Japan. For the past 30 years, he's become one of Hawaii's most successful competitive sailors. Most recently, he's won his division of the prestigious Trans-Pac - the historic sailing race from Los Angeles to Honolulu - no less than five times.
Along the way he's also tasted the wrath of the Pacific.
"In one of my earlier crossings, about 600 miles out of Honolulu, (we were caught in a storm) and the mast came crashing down," he recalls. "I was pinned underneath it for hours. Luckily, I got out uninjured."
Last year, the 48-year-old Kailua real estate agent had another eventful crossing.
"We almost got hit by a whale," he says.
But most of the races have gone extremely well, and that's why he's now preparing for the race of a lifetime.
This July 4, Doyle and his boat Two Guys on the Edge will set sail in the 14th biennial Pacific Cup, a 2,100-miler from San Francisco Bay to Kaneohe Bay. The division they've entered in is the "Crewed" division. And what makes this race so special is that for the first time in a big ocean crossing, Doyle's crew will be his own sons Sean, 18, and Justin, 17.
"Both are very experienced sailors, and we've raced before in off-shore races around Oahu and to Lahaina, but it's nothing short of tremendous to be with them out on the Pacific for nearly two weeks," Doyle says. "I'm never going to forget the great bonding experience we'll have out there. It's kind of a rite of passage for them."
Sean is a freshman at Santa Barbara City College. An accomplished sailor in his own right, he won the North American Championship regatta in New York (with Honolulu's Martin Sterling) and made the Olympic Trials in 2004. Justin, meanwhile, is a junior at Mid-Pac, and last summer in San Francisco won the bronze division in the World Championships with fellow Kailuan Ian Andrewes.
"They've both been sailing since they were 7 or 8 years old," Doyle says. "I remember my biggest fear was that they would-n't take to the sport. When they got heavy into soccer for a while, and weren't sailing much, I wondered. Some kids just don't follow in their father's footsteps. But around age 10 or so, they came back to the water."
Doyle says he has implicit belief in his sons' abilities to crew such a grueling race.
"They're literally the ones I'll rely on most," he says. "They're both very hard-working, dedicated and highly motivated. I don't have to worry about them at all."
There's another incentive, too. If the boys do well, they could be up for a part in an upcoming Roy Disney movie about open-ocean sailing. (Roy, Walt's brother, has participated in the Trans-Pac for years.)
"They've got a very good shot because of their experience," Doyle says. "They'll immediately improve their chances with this race ... Stamina becomes one of the issues," he says. "You have to push the boat hard. We put a premium on being in really good shape when we're ready to go. It can be a really physical trip, especially if you're grinding the sails at both 2 in the afternoon and 2 in the morning."
But the wee hours of the morning may also turn out to be the best times.
"I think about the quiet times at 2 or 3 in the morning, or later when the sun is just coming up," he says. "Being there with your own son - those are the times that are special.
"To be their dad and share that with them is just incredible."
Depending on the weather and favorable winds, the Pacific Cup crossing for Doyle and his sons should take about 10 to 11 days. But the memories of the crossing will last a lifetime.
Most Recent Comment(s):