A Bit Of This, That In Isle Athletics

By
.(JavaScript must be enabled to view this email address)
Wednesday - October 05, 2011
|
Share

Del.icio.us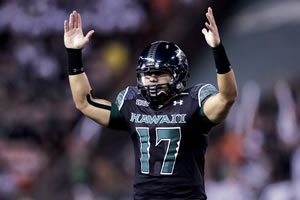 UH quarterback Bryant Moniz continues to set new records. Jay Metzger / UH Athletics photo
A little bit about a lot of local sports things October edition:
* It seems hard to believe that the UH football team will be home only once during the month of October. That's a Homecoming date Oct. 22 against visiting New Mexico State.
I was among the approximately 28,000 fans who showed up for the last Warrior home contest, and I listened to the radio on the way out of the stadium as some die-hard fans groused about the low attendance figures. My gut feeling tells me that the attendance will grow as it usually does as we get closer to the second half of the season. Football fanatics like to watch big-name opponents and get excited about old rivalries, including Fresno State (Nov. 19) and BYU (Dec. 3). And it's going to be thrilling to watch record-setting quarterback Bryant Moniz pile up more yardage in the home stretch when the Warriors play at home four of the final five weeks of the regular season.
* I happened to be in Waikiki early last Saturday morning when I noticed the UH Rainbow basketball team coming off the beach. I ran into assistant coach Brandyn Akana, who said the 'Bows were going through some pre-season, early-morning conditioning, Hawaii-style.
Akana says the 'Bows are "looking good" in early workouts. They start official practice Oct. 15 with their first exhibition game Nov. 11 against Darren Vorderbruegge's HPU SeaWarriors, and then play their first regular season game Nov. 14 against Cal State-Northridge. Both contests are at Stan Sheriff Center.
* It's not like the ghosts of Knute Rockne and Frank Leahey will be coming to the Sheriff Center this month, but Notre Dame is coming to town. The Fighting Irish women's volleyball squad will play Dave Shoji's nationally ranked Wahine in back-toback matches Oct. 17 and 18. The two matches should be a nice diversion as Kanani Danielson and company steamroll through the conference schedule on their way to reclaiming supremacy in their final WAC season.
* I was at St. Andrew's Priory last weekend to watch Daryl Kapis and his HPU women's volleyball team pick up yet another impressive win in PacWest play. The SeaWarriors have proven to be one of the top teams in the conference this year as they've already knocked off their three island rivals.
I was also there to hand out the PacWest Commissioner's Cup trophy to Hawaii Pacific University for the second year in a row. The SeaWarriors won the coveted cup after garnering the best overall finish against their eight league rivals last year.
* Speaking of HPU, its men's soccer team is off to its best start in years. Chris Fisher's squad got into the national rankings for the first time late last month. Chance Bukoski of Kapaa has been a one-man scoring machine in the early season for HPU. Bukoski knocked home eight goals in his first eight games and leads the PacWest in scoring by a wide margin.
* Finally, speaking of big scorers, Jet Chang is back on the island for his senior season at BYUHawaii. Chang, the first Taiwanese player to win Most Outstanding Player honors at the NCAA Division II national tournament last March, recently led his Chinese Taipei team in the FIBA National Championships. Chang averaged in double figures for the tournament and popped in 35 points against Qatar. Looks like he's ready for some more big numbers in his final season in the PacWest.
Most Recent Comment(s):