A Bouncing Child With Big Talent

By
.(JavaScript must be enabled to view this email address)
Wednesday - June 09, 2005
|
Share

Del.icio.us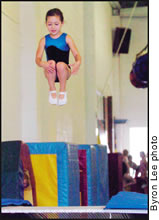 Dorothy Sanidad, 5, is already
a remarkable gymnast
Dorothy Sanidad is only 5 years old. She hasn't even been to kindergarten yet.
But this summer, she'll be the youngest Hawaii gymnast competing in the Junior Nationals in Houston, Texas.
Her discipline is the new Olympic sport of trampoline and tumbling. Dorothy is already at level 5 in competition terms, and for her, the sky is quite literally the limit.
Her parents, Frederick and Erin Sanidad of East Honolulu, have heard the term child prodigy thrown around quite a bit. "We've heard that a lot," Frederick says. "I have no idea really. It's just something she really likes to do."
Whether prodigy is the right word or not, Dorothy's story is quite remarkable. "I think it's sort of amazing," Erin says. "I don't know where it comes from."
The story starts when Dorothy was just 20 months old. That's when Frederick, whose background came in martial arts (he's a black belt in tae kwon do), first signed up his only child for a gymnastics class at what was then called Aloha Gymnastics.
A few months later, Hawaii Academy Gymnastics took over the facility, and that's when Dorothy's natural ability really showed. "When she was only 3 (years old), the coaches recruited a group of kids they called 'hot shots,'" Frederick recalls. "It was for children, mostly between 5 and 7, who showed potential. After about three months, (the coaches) took her out of that group because they said it was slowing her down."
So Dorothy moved up with the preteens. She stayed there about a month, until the director (Dr. Max Vercruyssen) saw her and asked to recruit her for the trampoline and tumbling team.
Here's where it's important to understand that this isn't your grandpa's idea of trampolines. It's no longer a bunch of bouncy pits located next to an old A&W rootbeer stand. There are no exposed metal springs. "There's padding everywhere," Frederick says. "It's very safe."
And Dorothy soared. "She has such an affinity for it," Erin says. "She has great coordination and body control."
When she joined the other youngsters, Dorothy had just turned 4 years old. "Her first workout, she outlasted most of the kids in her class," Frederick remembers. "So the coaches set goals for her. She reached these goals much faster than anticipated."
At one of her early workouts, her parents watched as the older kids learned round-off back hand springs. "We wondered how long it might take her, perhaps a year or so," Frederick says. "(My wife and I) went out for a cup of coffee, and when we came back, the coach came up to us and said 'watch this.'"
You got it. Dorothy was already doing round-off back hand springs.
"She tries to keep up with the older kids," Frederick says. "They push her. And she wants to imitate them. It's quite amazing how fast she learns. Everything just clicks."
But her parents also make sure she doesn't go too fast.
"One of us is always there," Erin says of the workouts in downtown Honolulu. "At first, I was like 'Oh, no, she's going too high,' but then I realized she could stop herself. We're in constant communication with her and her coaches. She'll take risks, but not huge risks. She knows how to set limits for herself."
As for Dorothy, well, she's just in love with the sport.
"The best part about gymnastics is that I like to do a lot of high bounces," she says, her tiny voice full of confidence.
Ever get scared? I ask.
"No," is the quick reply. "I just have so much fun doing it."
"As long as she's having fun with it, it's fine with us," Frederick says. "We're not pushing."
But with Dorothy's affinity for rapid advancement, dreaming of a big future is a very definite reality. "She'll be 16 in the 2016 Olympics," he says. "I guess there's maybe a possibility. We're just enjoying it now. We'll see how it goes."
.(JavaScript must be enabled to view this email address)
Most Recent Comment(s):
Commenting is not available in this weblog entry.