A Camp To Learn The College Ropes

By
.(JavaScript must be enabled to view this email address)
Wednesday - April 26, 2006
|
Share

Del.icio.us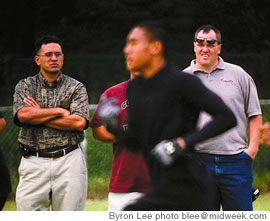 Asai Gilman and Eli Kapu check out players as they
run drills
Asai Gilman of Laie knows both the thrills and the heartaches of college sports recruiting. Back in the early '80s, Gilman was a highly recruited football star from Kamehameha hoping for the glory of big-time college football and maybe even a shot at the professional ranks. But three games into his senior season, he injured his knee.
"All the calls, all the letters just stopped," he says. The experience left an indelible mark on him.
After recovering from the injury, he still went on to play junior college football at Ricks College in Idaho. "My biggest dream was to go to BYU, but it didn't happen," he says. Instead, he ended playing and then coaching at Southern Utah, a Division 1-AA school.
When he came home to the North Shore of Oahu in the late '90s to become admissions director at BYU-Hawaii, Gilman saw a strong need for education about the recruiting process.
"In this area, people eat, sleep and drink sports," he says. "Some parents are so ambitious and they want their kids to earn athletic scholarships. But many really don't understand the process. Some lose sight on academics and the balance that is needed in their children's lives."
Gilman, now 39 and the father of five children between the ages of 3 and 13, also recalled his experience as a young football coach and college administrator.
"I saw too many kids who had the physical skills, but not the academic skills to sustain themselves through college," he says.
He vowed to change that. Three years ago he helped form Education 1st Hawaii, a non-profit organization that specializes in providing Hawaii's athletes with mentoring in academics, plus both mental and athletic preparation. For the past two years, Education 1st has hosted what they call Game Plan Academy. The third annual Game Plan Academy, a residential camp open to 100 male and female high school juniors and seniors-to-be (in all sports), is scheduled for June 26-30 at BYU-Hawaii.
"We stress five things," Gilman says. "We help with SAT preparation, obtain NCAA Clearinghouse and Admissions and Financial Aid information, mentor them with college athletes, coach them on speed and strength training, and help them learn mental discipline through sports psychology."
The success of Game Plan Academy has also led to the first-ever Game Plan Football Camp, July 5-8, also at BYU-Hawaii. The residential football camp is open to 200 high school football players and will be directed this summer by none other than University of Hawaii head football coach June Jones. Assisting Jones will be UH quarterbacks coach Dan Morrison, former Kailua head coach Darren Johnson and former Kahuku defensive coordinator Byron Beatty, along with many other coaches from Hawaii and the Mainland.
The camp will also help the parents.
"Parents need to know how all this works," Gilman says. "We have what we call a 'reality check' workshop to help parents recognize the dos and don'ts of the process. Both Game Plan camps have the same goal - to stress education."
"What's primary in all of this is sustaining academic excellence," he says. "We want to see the kids succeed all the way through graduation."
The cost of the residential camps is $125 for Game Plan Academy and $225 for the Game Plan Football Camp (with certain restrictions on application dates and day use). The remainder of the cost is covered by a grant from the Native Hawaiian Education Act, Gilman says.
Don't get left on the sidelines. For more information about how your athlete
can get involved, contact Education 1st Hawaii at 293-7700 or visit them on
the web at www.edu-1st.org
Most Recent Comment(s):