A Double Degree For Mark Atuaia

By
.(JavaScript must be enabled to view this email address)
Wednesday - March 30, 2011
|
Share

Del.icio.us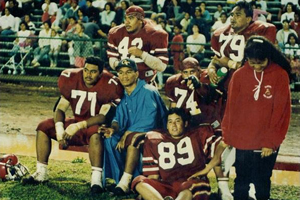 Record-breaking night back in 1990.The night Mark Atuaia ran for 350 yards
Mark Atuaia's exploits on the football fields of Oahu are legendary.
In 1989 and 1990, Atuaia broke some of the† biggest records in Hawaii high school history, surpassing the great Mosi Tatupu and setting marks for all-time rushing yards for a career, season and single game.
When he graduated from Kahuku High School in the spring of 1991, he had stardom written all over him.
But despite a solid collegiate career at BYUProvo, Atuaia's star never went as high as he thought it would go.
"I thought my life would be different. I thought I would go to the NFL," the 37-year-old father of six says today from his home in Provo, Utah. "But I've grown a lot in the last several years, and I've developed a different love - a love for academia, and hopefully, I've developed skills that will last a lifetime and help my community and my family."
Twenty years after Atuaia made headlines for his amazing efforts on the local gridiron, he will quietly add another incredible chapter to his life story next month when he graduates from law school at BYU on the same day he also earns his master's degree in public administration.
"Both ceremonies are on the same day, April 22," he says. "The Public Administration graduation is at 8 a.m., and the Law School graduation is at 5 p.m."
Atuaia hopes his double degrees, along with passing the bar exam in both Utah and Hawaii, will lead to a possible career in the public-service sector.
"I have some opportunities in both states. We'll see where it goes," he says.
Atuaia's success at Kahuku is something that longtime football fans still talk about. He rushed for an OIA record 350 yards in a game against Castle and then became the first player to rush for more than 2,000 yards in a single season.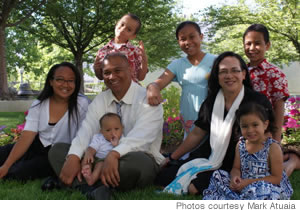 Mark and Elizabeth Atuaia with their growing brood
"My teammates were great," he says, humbly. "Twenty years gives a person time to reflect, and the best part about that time is that we built a lifetime of relationships and friendships that have lasted. I still keep in touch with my former team-mates."
Atuaia's career really never took off at BYU the way people expected it to. He ended up playing several positions, including blocking back, fullback, running back, even receiver.
"I played all over in Norm Chow's system," he says. "The best year was 1996 when we went 14-1 and played in the Cotton Bowl."
After that season, Atuaia was invited to mini-camp with the San Diego Chargers, but a life-threatening illness to his wife Elizabeth changed his perspective.
"She developed breast cancer, so I didn't go," he says. "She fought it off and she's been in remission for 15 years. My window of opportunity closed, and I don't regret it one bit."
Atuaia's wife, the former Elizabeth Wolfgramm, was the lead singer of the R&B group The Jets, whose records and albums went gold and platinum in the 1990s.
"She's a lot bigger star than I ever was," he says, laughing.
Now, she's a stay-at-home mom.
She and Mark came back to Hawaii in the early 2000s, where he interned with former Lt. Gov. Duke Aiona several years ago, and then he worked for former State Sen. Paul Whalen while finishing his degree at BYU-Hawaii.
It took him nearly eight more years to earn the degrees that he will receive in Provo next month.
"Coming from a small community, growing up poor, it's been a good ride," he says. "I'm honored that some people still remember me in Hawaii. I'm just trying to keep learning, and to make a good name for myself and my family."
(His sister April played basketball for the UH Wahine, while brothers Alema and Donnie also played football at BYU.)
Twenty years later, Mark Atuaia is still setting the highest of marks.
Most Recent Comment(s):