A Dream Comes True At Maryknoll

By
.(JavaScript must be enabled to view this email address)
Wednesday - March 05, 2008
|
Share

Del.icio.us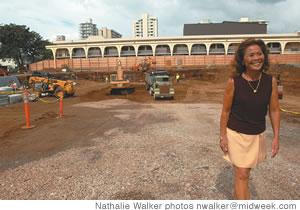 Pattie Heatherly is all smiles because of the new gym
Cheerful and enthusiastic, Maryknoll athletic director Pattie Heatherly always seems to have a smile on her face. But these days, Heatherly is smiling even more.
That's because a dream that Maryknoll coaches and student-athletes have had for decades is finally coming true.
"You should see it," she says - cheerfully, of course. "It's a big hole in the ground now, but we're hoping to be done by early 2009."
That big hole in the ground represents the hopes and dreams of thousands of Maryknoll Spartans over the years. Because when it's filled up, it will be Maryknoll's new gymnasium and indoor athletic facility, a project that has been much-needed for years.
Back when Tony Sellitto and Russell Dung were guiding the Spartans' boys and girls to state basketball championships in the 1970s and '80s, the Maryknoll teams went looking around town for gym space or simply practiced on the school's outdoor asphalt courts. Many a former Spartan can tell you of diving headlong onto the unforgiving asphalt for a loose ball.
Heatherly knows the stories very well. She's a former Spartan herself, graduating from Maryknoll back in 1966.
"It's going to help so much, we're very excited," she says - enthusiastically.
You expect that enthusiasm from someone who has given practically her entire life to the school. She was Pattie Wong when she attended the grade school back in the 1950s and '60s, then participated in sports in the days before Title IX. After college, Heatherly came back to Maryknoll to teach and coach P.E. and run the athletic program at the Maryknoll grade school. She was promoted to athletic director at the high school - the first woman A.D. in the Hawaii Association of Independent Schools - back in 1992.
For the past 16 years, she's overseen all of Maryknoll's athletics, watching and applauding as the Spartans have made their mark in the ILH and at the state championship level. No one loves Maryknoll any stronger than Heatherly. That's why she's so proud that the long-awaited gymnasium and community center has come about during her athletic leadership.
"As a student, we were always told about the possibility of having a gym, but it never happened," she recalls. "Then, in 1992, I was given the go-ahead to start working on the project. It was a dream come true. Now, I'm so nervous because it's finally coming for real. The day the first truck came in was so exciting!"
The great thing about the new facility is it will serve more than just athletes, and it will serve more than just students. Plans are in place to have the new facility be the home for performing arts, for masses and for the community at-large. "That's why the name we've given it is the Maryknoll School Community Center," a school spokesperson says.
The new community center/gymnasium will actually be located on the grounds of Maryknoll's grade school campus at the corner of Dole and Alexander streets. Not only will it be huge - two stories and 35,000 square feet - but it also will be air-conditioned! And to the appreciation of people in the immediate vicinity, the developers also have included technology that will reduce so-called noise pollution, so that any noise from the events inside the facility shouldn't be noticeable to neighbors.
Groundbreaking for the project happened last November. The scheduled completion date is April, 2009.
I don't know if there are any plans to have a "Heatherly Court" or a "Heatherly Classroom" or "Heatherly Rooting Section," but maybe there should be. There are few people who have given so much to the school she loves.
"When I was a little girl, my mom used to tell me that every time I passed Maryknoll, I would yell out excitedly, 'That's my school!'" she says. "It's been my life."
Now, as the Maryknoll Community Center comes to fruition, there will be something else for Heatherly to get excited about. You can almost hear her as she drives enthusiastically past the facility-in-progress - "That's my gym!"
All of Hawaii's sports fans are cheering and smiling right along with Maryknoll's Pattie Heatherly.
Most Recent Comment(s):