A Dream Hoops Season At Kalani

By
.(JavaScript must be enabled to view this email address)
Wednesday - June 07, 2006
|
Share

Del.icio.us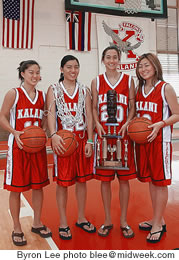 With the spoils of victory, from left,
Nicole Isemoto, Megan Kamehiro,
Mana Camara and Kerru Chikamori
I ran into Darold Imanaka and his Kalani girls basketball team the other day at the University of Hawaii's Cooke Field. Coach Imanaka and his girls were at the Hawaii Special Olympics as volunteers, there to help cheer on the competing athletes.
"This is what athletics is all about: learning about life skills," Imanaka says. "My girls were so impressed with everything out here. It's fun - it puts smiles on everyone's faces."
Imanaka's Kalani team also put smiles on everyone's faces this season. The story of the rise of this Division II championship team was one of the feel-good stories of this year's high school sports calendar.
"I knew we had potential," Imanaka remembers what he thought when he took the Falcons' varsity coaching job two years ago. "But I didn't think it would happen this fast. I was blessed with great kids, and their parents are wonderful. And my assistant coaches were fantastic. All I had to do on the court was blow the whistle; I blow a mean whistle."
Imanaka is being much too modest. Because right from day one at Kalani, he got everyone involved. He got the girls to pledge to volunteer efforts and community projects (like Special Olympics). And he made attending the games fun, from promotional giveaways to the positive way he coached. It seemed that everyone in the East Honolulu community came out in support.
"Parents, grandparents, aun-ties, uncles, friends, the band, the football team," Imanaka lists the hundreds of supporters who made the Kalani girls basketball games the smash hit of the athletic season. "When we played for the championship (against defending state champion Kamehameha-Hawaii), I think the gym was filled with about 90 percent Kalani fans."
Kalani took home the title with a 58-51 victory.
"When we won, the emotions just flowed. I think I hugged everyone. I went into the stands and thanked the parents and the band and the football players. I knew the reporters wanted to talk with me (during the post game celebration), but I was just so excited and so thankful."
It was the culmination of a life's journey for Imanaka, who lives in Kaneohe with his wife Stacey and their children Shauna and Scott. The 53-year-old insurance agent is a 1971 graduate of Kalani.
"I was captain of the football and basketball teams, (but) I was a wild kid," he recalls. "I had a very bad temper. I would swing and then ask questions later."
As Imanaka matured as an adult and later became an intermediate and junior varsity coach at Punahou, he drew on the lessons he had learned in his life. "My mentors were Ted Fukushima (the former OIA executive secretary) and my best friend Kevin Velasco (who coaches at Punahou). They used to say 'You have to give back. It's all for the kids.'"
Imanaka made that his theme when he took the job at Kalani.
"Basketball teaches life skills," he says. "I knew I was going to give 100 percent or nothing."
The Falcon girls and their parents bought into that plan at that same 100 percent level. So when the victories started coming in bunches this season, and the crowds started flowing into Kalani's gymnasium, Imanaka paused for a moment to reflect on what was going on with one of his assistant coaches, Dean Sakaue.
"We've been good friends for over 30 years. It was right before the playoffs began," Imanaka thinks back about a lunch meeting that was set up to prepare the coaches for the upcoming championship run. The head coach didn't expect the meeting to get so emotional. "I had tears in my eyes. I told him I wanted it for the kids, most of all. And I remember he leaned across the table, and he said 'You think you're such a tough guy. But you're not.'"
No, Darold Imanaka is proof positive that nice guys can finish first, and with the help of great girls, great parents and great assistants, they do.
"I'm so lucky," he says.
So is the entire Kalani High School community.
Most Recent Comment(s):