A European Vacation To Remember

By
.(JavaScript must be enabled to view this email address)
Wednesday - July 06, 2011
|
Share

Del.icio.us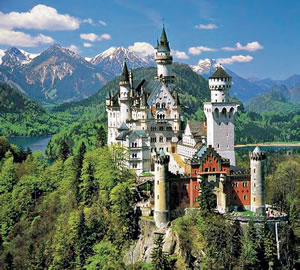 Neuschwanstein castle is so magical that Walt Disney used it as a model for the castle in 'Sleeping Beauty'. Photo from Bob Hogue
Sports columnists rarely get to write about castles and cathedrals and medieval villages, so here's my chance. Early this summer, I got the wonderful opportunity to tour Europe for the first time it was definitely the vacation of a lifetime.
From London to Brussels to Bavaria to the Austrian and Swiss Alps to northern Italy and Geneva and Paris, I gobbled in the great scenery. It was a feast for the eyes, for sure.
Since this is a sports column, I'll tell you about that aspect first. In London, we were there for Wimbledon, with the whole country abuzz about the visit to Centre Court by the new Duke and Duchess of Cambridge. In Germany, we stayed in the village where new NBA hero Dirk Nowitzki of the champion Dallas Mavericks was born and raised and first played roundball. In Austria, posters everywhere bellowed about the impending local start of what they call "American football." In Switzerland, we drove past the international headquarters of the Olympic Games in Lausanne. And in Paris, I dutifully played tourist and bought a T-shirt that glorified the route of the Tour de France.
But there was so much more than sports.
In historic Brussels Square, I consumed my very first real Belgian waffle, complete with piles of fresh strawberries let me tell you, that there is no sweeter taste to start a European vacation. In Germany, I marveled at ancient castles on a breathtaking cruise down the Rhine amazed at the fortresses that guarded virtually every turn in the river.
Down Germany's socalled Romantic Road brought us to the tiny village of Rothenburg, where a great cathedral and medieval village were saved from the ravages of World War II by a forward-thinking Nazi general who refused orders to sack the town. In southern Bavaria, after zigzagging across the Austrian border and then back into Germany, stands King Ludwig II's magnificent unfinished masterpiece, Neuschwanstein castle a place so magical that Walt Disney copied it when he created the castle for Sleeping Beauty. In a tour of highlights, this was the highlight of them all.
And then on to the Alps first, glorious Innsbruck, where the Olympic games were held in 1964 and '76 and where skiers have been known to ski thousands of feet down the encircling mountainside and right into the town square. Across the border, climbing through the mountain passes, is exquisite Saint Moritz, a Swiss hideaway for the rich and famous.
We took the Bernina Express from there an incredible mountain train that climbs one of the highest passes of the Alps, past glaciers and alpine meadows, and eventually ends up in the vineyard towns of northern Italy. From there, it was on to beautiful Lake Lugano on the Swiss/Italian border where every view and vista literally takes your breath away.
We took photos of the gorgeous swans on Lake Lucerne and marveled at the snowcapped mountains around Interlaken one of my favorite stops on the tour. But my favorite city of all was Geneva, where the international dynamics of a breathtakingly clean lakeside metropolitan area was underscored by absolutely perfect early summer weather.
Yes, there was more. Paris is magnificent, and London is regal, but this adventure wasn't about the traditionally popular tourist spots, it was about a feeling a feeling of discovery and excitement, and the thrill of seeing something up close that I had only read about or seen in pictures.
To see it, to touch it, to take it all in with one jawdropping moment after another, is something I'll treasure for a lifetime. Count me as one very happy sports columnist now with a beautiful and memorable European tour crossed off my bucket list.
Most Recent Comment(s):