A Fast Recovery From 'Being Dumb'

By
.(JavaScript must be enabled to view this email address)
Wednesday - April 14, 2005
|
Share

Del.icio.us
You've probably seen or heard the phrase "Skateboarding is not a crime." And that's true.
But for Kaiser High School track and field star Michael Alices, the oft-maligned sport sure turned out to be punishment earlier this year.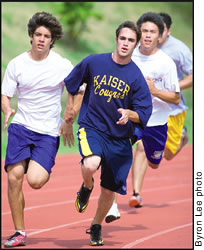 Alices, center, races teammates Evan
Miller and Vincent Fong
In February, Alices (pronounced Ah-LIH-sus) was preparing for his senior season as one of the top sprinters and high jumpers in the state.
"He had really worked hard in the off-season and was in great shape," according to Kaiser track coach Dennis Swart.
But something went horribly wrong that day at the A'ala Skate Park near downtown Honolulu. "I was just fooling around with a 'kick foot'(a maneuver in which the skater kicks the board out from underneath themselves) when I landed wrong and turned my ankle real bad," says Alices. "That was me being very dumb before the pre-season started."
"He was really disappointed with himself," says Swart. "But he's learned from it, and worked hard."
Alices missed nearly two weeks of workouts, and has had his ankle taped tightly ever since, but his recent marks show that he is nearly 100 percent. "He's been timed at 10.8 seconds in practice" in the 100-meter dash, says Swart, and Alices won the recent Sakamoto Invitational with a time of 11 flat. Those times are among the best in the state this year.
But what makes Alices unique is that he is also an outstanding high jumper, a rarity for a sprinter. While many sprinters double in the long jump, few get into vertical leaping. Alices' best mark in that field event is 6 feet 4 inches, despite working out on the high jump "only about once a week," says Swart, "90 percent of his time is spent on sprinting and speed drills."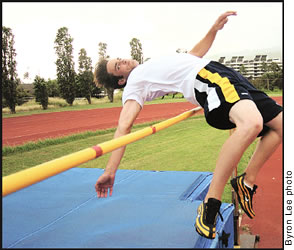 Michael Alices is the rare sprinter who also high jumps
Alices believes the two disparate events compliment each other.
"I think sprinting helps (me) high jump because it strengthens and conditions (my) legs," he says. "I think high jumping is why I have such a good start (in the sprints). My lead leg in sprinting is the same leg that I jump off in the high jump."
Swart says that Alices' sprinting success is directly attributed to his ability to get out of the blocks quickly. "He's got a great start," says Swart. "That's why he runs the first position in all of our relays."
Last year, as a junior, Alices was the lead sprinter in Kaiser's record-setting 4X100 relay team. The Cougars won the OIA and set a league record in the event. "They were undefeated all season until the state meet," Swart says.
At the state meet on Maui, a torrential downpour affected all the athletes, and Kaiser finished a disappointing third. Alices hopes to be back at states again this season (at Mililani next month), with a chance at several medals — in the relays, 100- meter dash and high jump.
"The 100 is exciting, a real adrenaline rush," he says. "I figure somewhere between a 10.7 and 10.9 may win it this year.
"(In the high jump) I've been shooting for 6 (feet) 4 (inches) since my freshman year," he says. "I finally got it. Now, I figure that somewhere around 6-6 may be the height needed to win."
Alices gives credit for much of his high jumping success to his former Iolani jumping coach, Grant Muroda. "I think I started with him in summer track when I was about 8 years old," Alices recalls. "Just being under him for so long, he passed on his knowledge to me."
As for his speedy sprinting times, he says it might be genetic.
"My dad and my brother were also fast," he says. Dad is former Kalani High sprinter David Alices, while brother is former Iolani speedster Matt.
But, ultimately, it all comes back to the track and the coaching staff at his home school.
"When I got to Kaiser, I just got better at it," Alices says.
With tape firmly wrapped around his ankle, and the vow to stay away from all skate parks, getting "better at it" might just mark the beginning for sprinting and high jumping star Michael Alices.
Most Recent Comment(s):