A Few 2010 Sporting Resolutions

By
.(JavaScript must be enabled to view this email address)
Wednesday - December 30, 2009
|
Share

Del.icio.us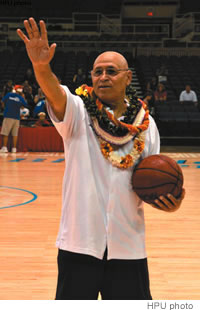 Tony Sellitto will say good-bye after this season
How many of you have a list of New Year's resolutions for 2010? OK, hands down. Now, how many of you actually live up to those resolutions? Hmmm, don't see as many hands.
In any case, here are some resolutions for local sports figures - all of which I absolutely hope can be kept as time marches on in Hawaii sports in 2010:
Bob Nash, Hawaii men's basketball: All 18 of those wins necessary for him to keep improving the University of Hawaii basketball squad.
Greg McMackin, Hawaii football: A bowl team every year, every year, every year!
Charlie Wade, Hawaii men's volleyball: A return to national prominence and local celebrity status for the once-proud UH Warriors.
Mike Trapasso, Hawaii baseball: A NCAA tournament bid and a WAC-title-contending team this upcoming season.
Dave Shoji, Hawaii women's volleyball: A couple of new recruits who stand taller than Penn State's national championship players.
Dana Takahara-Dias, Hawaii women's basketball: An incoming recruiting class that has the Wahine playing like Vince Goo's teams of old.
Bob Coolen, Hawaii softball: Another big pitch for the NCAA softball regionals.
Tony Sellitto, HPU men's basketball: One more run into contention for the PacWest basketball title in this, his retirement season.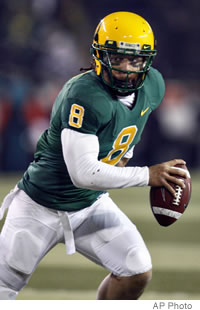 Jeremiah Masoli of Saint Louis leads Oregon
Ken Wagner, Matt Mahar, Jeff Law, BYU-Hawaii, Chaminade, UH Hilo men's basketball:The strength, patience and tenacity to battle Tony all the way to the finish line for the PacWest championship and the automatic bid to the NCAA tourney.
Jeff Harada, Wendy Anae, Christina Apisa, Daphne Honma, HPU, BYU-Hawaii, Chaminade, UH Hilo women's basketball: The patience and drive to keep building up PacWest basketball and creating many more opportunities for local wahine basketball stand-outs.
Lucas Alves, BYU-Hawaii men's basketball: A strong return this winter coming off summer knee surgery after his National Player of the Year performance last season.
Jet Chang, BYU-Hawaii men's basketball: A speedy recovery from arm surgery that ended this year's campaign too early after being named PacWest Freshman of the Year last season.
Rod Flemings, Hawaii men's basketball: The ability to play hard in every minute of every game for the basketball 'Bows and allowing his great natural ability to lead UH into WAC contention.
Kolten Wong, Hawaii baseball: No such thing as a sophomore slump for the talented centerfielder and last year's WAC Freshman of the Year.
Micah Ostrowski, Hawaii football: The courage to make the tough decision of whether to continue trying to climb the football depth chart or make the switch back to basketball, where he was a multi-talented high school point guard.
Micah Christensen, Kamehameha boys'basketball and volleyball: An incredible junior season that tops his magnificent sophomore season of a year ago.
Jeremiah Masoli, Oregon/former Saint Louis football: The instinct and fortitude to make great plays in Pasadena New Year's Day so that my editor (and Ducks grad) Don Chapman can be quacking about the 2010 Rose Bowl for years to come.
To each of you: all the health, prosperity and happiness your heart desires as we begin a brand new decade.
Happy New Year!
Most Recent Comment(s):