A Few Thoughts On Spring Sports

By
.(JavaScript must be enabled to view this email address)
Wednesday - April 21, 2010
|
Share

Del.icio.us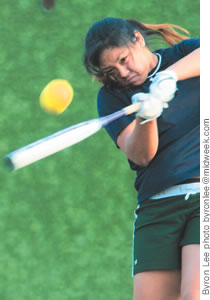 Jessica Iwata smacks another one
A little bit about a lot of things spring:
* And the freshmen from small towns shall lead them! What a story this year for the record-setting University of Hawaii Wahine softball team. Not only is Bob Coolen's team nationally ranked club smashing home records all over the place, but the team leaders are diminutive first-year players from small population centers in Hawaii and California.
Kelly Majam, the 5-foot-3-inch redshirt freshman centerfielder who leads the nation in home runs, hails from the tiny unincorporated city of Pine Valley, Calif. - population 1,501 - in the mountains near San Diego.
Jessica Iwata, the 5-foot-4-inch freshman shortstop who was the National Player of the Week last week after hitting no less than two grand slams in one week, comes from Lihue on the Garden Isle, where she starred for Kauai High.
This is the most exciting Wahine team since the Super Regional club of a couple of years ago. Your final chance to see them play at home this year is at the end of this month, in an April 30-May 1 series against Fresno State.
* Speaking of softball, nationally ranked Hawaii Pacific will be announced as one of the hosts of the NCAA Division II Regionals when the sites and pairings come out in early May. The SeaWarriors are ranked No. 1 in the West region and have a chance to wrap up another PacWest title this weekend when they face crosstown rival Chaminade in a pair of doubleheaders April 24 and 25 at Howard Okita field on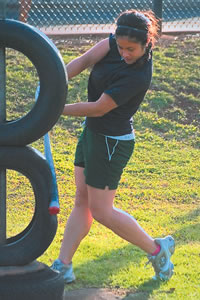 Kelly Majam grooves her swing
HPU's beautiful Windward Hawaii Loa campus.
* The chase for the coveted high school softball state title is one of the most tightly fought races in years. Several teams have a legitimate shot at the DI championship, including Mid-Pacific, Iolani and Punahou from the ILH, and Roosevelt, Campbell and Mililani from the OIA, as well as Neighbor Island powerhouses Baldwin and Waiakea. Or perhaps another team will get red hot May 11 to 14 when the HHSAA state championships are played at Wahine Softball Stadium.
* Who will finally de-throne Punahou is the big question in high school baseball this year - or will it even happen? The Buffanblu and Coach Eric Kadooka have won an incredible six straight state titles, sometimes coming from behind and sometimes coming from an unseeded position. This year, Punahou has been truly challenged in the ILH, with Saint Louis, Mid-Pac and Iolani all having banner seasons. Meanwhile, the OIA is home to powerhouse Pearl City, as the Chargers are having a terrific year. Kailua and Roosevelt also have been strong. The HHSAA state championships are on the Valley Isle this year, scheduled for May 5-8, which could be a real home run for local contenders Baldwin and Maui High.
* By the way, hats off to Punahou hitting instructor Franz Yuen, who has been helping me out as my physical therapist at Fukuji & Lum Physical Therapy these days. Hard to believe it's been two decades since Yuen led the Buffanblu to the state title in 1989, and then was a prolific hitter for
Les Murakami's Rainbows in the early '90s. Even at age 39, Yuen is in great shape, and looks like he could step into the batter's box and rip one out of the park.
* If you're a football fan, watch the Carolina Panthers this year. Why? Because Kahuku's Aaron Francisco just signed with the Panthers after playing this past season for the Indianapolis Colts in the Super Bowl. A year before that, Francisco played in the Super Bowl for the Arizona Cardinals. It seems like it would be some kind of record if he made it three straight Super Bowls with three different teams!
* It was like a Hawaii homecoming at a recent Pac-10 men's volleyball match between Stanford and USC. Golf stars Michelle Wie and Parker McLachlin were on hand to watch and cheer on local stars Kawika Shoji, Erik Shoji, Spencer McLachlin, Riley McKibbin, Maddy McKibbin and others.
Several Iolani and Punahou alums and family members were on hand, too.
* Finally, many thanks to all of you who have picked up a copy of my first novel, Sands of Lanikai. I'm excited that it was one of several local novels nominated for this month's Po'okela Award with the awards ceremony April 30 at Bishop Museum. Just to have my little book mentioned in this prestigious mix is a humbling honor. Mahalo!
Most Recent Comment(s):