A 'Frail Kid' Becomes A Champ

By
.(JavaScript must be enabled to view this email address)
Wednesday - November 02, 2005
|
Share

Del.icio.us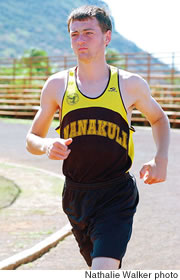 David King: making history on the
Leeward side
David King was only 10 years old when he lost his 8-year-old sister. She perished in a fire in a small playhouse in the family's backyard in Nanakuli.
That was over seven years ago, but David, now 17, and a senior at Nanakuli High School, remembers it vividly.
"That night, I cried myself to sleep," he says. "I still have problems with it."
David, his mother and father, plus his brother and five other sisters tried to handle the grief by supporting each other. They learned to deal with the hard times of losing a loved one.
Four years later, David also found a release in running.
"It calms me down, settles the stresses," he says. As a freshman in high school, he began running cross country. He also joined the school's track and field team. "A lot of the time, I will try my best in honor of her."
"He started running year round," says his coach, Tony Jones. "When he joined us three years ago, he was very frail at the time. He's really progressed. He's really been able to build up his self-confidence."
"I always felt like an outcast," David says. "I felt I wanted to prove something. I got a lot of support from home and from my coaches."
David began to run not only as a release, but as a way to build his self- esteem. He began to excel at the USA junior track and field meets, consistently winning the 3,000- and 5,000-meter distance races. He also won his age group at several local road races.
But he still hadn't won at the high school level. That is, until last month. First, at the McKinley Invitational, David won the individual title in the 3-mile boys' race. Then, he had a chance to make history at the OIA Western Division championships.
"I told David and his family t h a t Nanakuli had not won an individual championship in 10 years , " Coach Jones remembers.
"It was the 10th anniversary of R.J. Burkett winning the title. (R.J.) also won the OIA championship and finished second in the state before he passed away from leukemia at the age of 21. We talked about it and I let (David) know the importance of this race."
David listened to the coach's story, and he gathered his strength for the 3-mile divisional championship race at Leilehua High School. To add to the challenge, the race was run in very difficult conditions.
"It was raining most of the race," David says. "It was very wet and muddy. The beginning was difficult because it was on the football field (and) it was very slippery. I got boxed in and had to catch up to the leaders. I finally took the lead at about the one-mile mark."
But he didn't take the lead for good. He was pressed hard by a runner from Campbell.
"I kept going back and forth with him," David says. "It was close until the final 150 meters or so when I finally passed him for good. I was able to out-sprint him to the finish. It felt really good."
"We were ecstatic," says Coach Jones.
"Nanakuli should have something to be proud of," David says.
And it doesn't stop here. David's next big challenge is the OIA Conference Championship Meet on Friday, Nov. 4 at Waialua. Then, it's on to the state championships on Kauai on Friday, Nov. 11.
Through all of his hard training - he runs up to 25 or 30 miles per week - and his excellent work in the classroom - he's a B+ student - David keeps focusing on his goals. He says he'd like to study paleontology in college. And he hopes to keep running competitively.
More than anything else, David King is a true champion. He has honored his sister, his family and the entire community of Nanakuli very well.
Most Recent Comment(s):