A Friendly QB Rivalry Heats Up

By
.(JavaScript must be enabled to view this email address)
Wednesday - June 30, 2005
|
Share

Del.icio.us
Weeks before the start of UH football pre-season camp, the battle to replace record-setting quarterback Timmy Chang has begun. But this is unlike any other battle you've ever seen.
Several signal callers who have been at Hawaii for a while are in the mix — Kainoa Akina, Jeff Rhode, Jack Rolovich — but insiders say it's likely that the starting job will eventually come down to a young kid from Arizona or a juco transfer from California.
"The job is wide open," says Tyler Graunke, a redshirt freshman from Tucson as he hops out of the car adjacent to the UH football practice field. This guy appears to be my biggest competition."
He points to Colt Brennan, incoming sophomore, who was the California junior college offensive player of the year last season at Saddleback Community College in Orange County.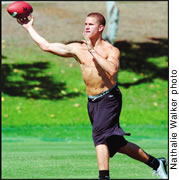 Tyler Graunke
Brennan smiles, closes the car door and readies himself for his daily workout. "All of us are friends," Brennan says, "but (Graunke) and I just hit it off right away."
The two have become almost inseparable since Brennan arrived from California this summer. But only one could potentially earn the plum job of replacing Chang as the Rainbow starter.
"He's a tough kid, a great runner and thrower," says Brennan of his buddy. "I'm pretty much the same, just a little taller."
That three inches in height — Brennan is about 6-foot-3- inches tall and G r a u n k e stands right at 6 feet — appears to be the only difference between the two. Both are strong passers and excellent athletes. You can see that on the practice field as both whistle picture perfect passes in the blazing afternoon sun in Manoa.
"We try to get out here every day," says Brennan of the voluntary summer workouts. "There's not much that separates us. I think it's going to come down to game time and who handles the high pressure situation best. It's not just who's the best passer or who's the best runner, but who makes the best decisions when it matters."
"I agree," Graunke says.
When Graunke was in high school, he set the Arizona single season passing record and led his team to regional titles in both his junior and senior seasons. Watching him workout, you can see he's a powerfully built athlete, with an exceptionally strong and accurate arm.
Brennan, on the other hand, had to wait in the wings at traditional Orange County powerhouse Mater Dei, where he was one of the back-ups to eventual Heisman Trophy winner Matt Leinart. After he earned the starting assignment his senior season, Brennan opted for a collegiate career at Colorado, but things turned sour.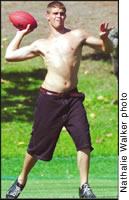 Colt Brennan
"I battled some off-the-field issues," he says candidly. "I chose (to transfer to Hawaii) because I liked the way they dealt with it. It's a really positive environment here. Plus, I grew up in southern California where it's a little more laid back. Hawaii just seemed like a good fit (and) a great opportunity."
You can't help but notice that Brennan has the commanding presence of a confident quarterback and leader. His throwing style is somewhat unique in that he throws from the low angle of his shoulder rather that overthe- top, as some tall quarterbacks will. But his rifle-like tosses are consistently delivered quickly and on-the-money to his receivers.
And then there's that first name, Colt. "My parents named all of us with 'C' names that were a little different," Brennan says, smiling. "My sisters are Careena and Chanel. I was named for an actor."
This summer Brennan and Graunke aren't acting. They're working hard for the role of a lifetime — starting quarterback at a school where records are made to be broken.
"It's wide open," Graunke says again.
Expect the friendly battle to continue into the fall.
Most Recent Comment(s):
Commenting is not available in this weblog entry.