A Game For Fun And Friendship

By
.(JavaScript must be enabled to view this email address)
Wednesday - December 07, 2005
|
Share

Del.icio.us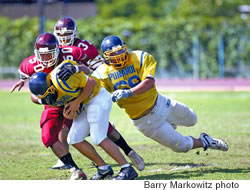 Cody Kekipi of Punahou (pictured here in the air)
could play either offense or defense in college
Last Friday, B.J. Beatty of Kahuku and Cody Kekipi of Punahou stood on the turf at Aloha Stadium as mortal enemies, locked in the fight of their lives for the high school football state championship. Beatty, a Red Raider line-backer, and Kekipi, the Buffanblu center, banged heads a number of times in the classic struggle.
This Friday night, Dec. 9, Beatty and Kekipi are back on the same field again, but this time as friends.
The two are part of a contingent of all-stars making new friendships and then taking part in the Hawaii Union Builders Goodwill Senior Bowl. This is the 15th anniversary game, formerly known as the HUB Goodwill Classic.
"It's a great honor to be selected to play for both my school and my defense," says Beatty, an all-OIA and allState linebacker at Kahuku.
"This caps off a dream season," says Kekipi, an all-ILH lineman at Punahou. "It's an honor to play against the best in the state."
But it's more than just a game. It's a weeklong event, including a day at Hawaiian Waters Adventure Park, an All-Star Outreach at Kapiolani Children's Medical Center, and the first ever HUB Goodwill Senior Bowl Banquet at the Hard Rock Café in Waikiki.
"I've been a coach in the game, and it's a great way for the young men to meet players from other teams," says Kale Ane, Cody's coach at Punahou. I've seen friendships form that end up meaning more than the kinds of friends you have on your own team. These are friendships that can last a long time."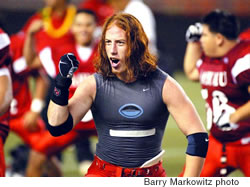 B.J. Beatty of Kahuku is fired up about Friday's
all-star game
Both Beatty and Kekipi have been playing the game for a long time. Both started in their beloved sport back in grade school and crafted their skills in the local youth leagues. Then both were starters very early in their high school careers.
"Cody has been a starter and the anchor on our offensive line for three years," Ane says. "He's been great not just as a player, but as a leader and a communicator."
Beatty jumped right into the varsity limelight as a freshman at Kahuku. The son of former Kahuku defensive coordinator Byron Beatty, B.J. made an immediate impact in the Red Raiders' defensive scheme.
"Football dominates my life," B.J says. "If I'm not at practice, I'm watching film or watching football. And even when I'm at home, I play video football games with my brother."
Both young men are hoping to make the big leap to the next level. They know this game will help showcase their talents in front of college recruiters.
Kekipi, at 6-feet-2-inches tall and 265 pounds, is being recruited by both Utah and Colorado, and could play "either center or along the defensive line," according to Coach Ane. "He's played both for us."
Beatty, meanwhile, at 6-feet 2-inches and 200 pounds, has a whole list of schools who have offered him scholarships already. "New Mexico State, Utah, Hawaii, BYU and UNLV," he says. "Plus, I have trip offers from Colorado, Oregon State and Boise State."
Both all-stars will have a couple of months to make their big decision. The national letter of intent signing date isn't until early February.
In the meantime, they should both enjoy the host of activities this week, as well as the ability to make lifelong friendships. The list of all-stars includes Mililani halfback Kekoa Perbera, Aiea quarterback Kali Kuia, St. Louis quarterback Cameron Higgins, Kamehameha linebacker Mana Lolotai, Damien defensive lineman Mike Sipili and Kapolei defensive lineman Alasi Toilolo, plus many other outstanding senior players from schools throughout the OIA and ILH.
Pre-game activities begin at 7 p.m. this Friday with kickoff at 7:30. The game will also be televised on OC-16. Tickets are only $5 and can be purchased through the local high school athletic departments or at the Aloha Stadium ticket office.
Most Recent Comment(s):