A Gracious Act Of Sportsmanship

By
.(JavaScript must be enabled to view this email address)
Wednesday - March 26, 2008
|
Share

Del.icio.us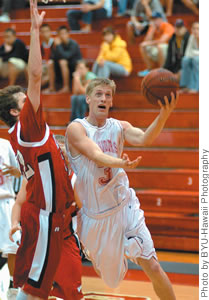 Corey Nielson: in the true spirit of college athletics
The NCAA feels so strongly about sportsmanship that it has a page on its website where people can recognize acts of what it calls "positive sportsmanship" - that is, the chance to thank student-athletes, coaches or fans for "doing it right."
Anybody who's ever played a game understands the need for good sportsmanship. It's about a sense of fair play, for respect of officials and opponents and even showing concern for one's opponent.
As commissioner of an athletic conference, it's my job to rule on situations where I see poor sportsmanship. It's not something I ever like to do. That's why I was honored recently to go to the NCAA's website to submit a story on one of the finest acts of positive sportsmanship I've ever seen in a championship game in any sport.
It happened in Anchorage, Alaska, the site of the NCAA Division II Men's Basketball Regional Championships. It was there that the host team - No. 1-seeded University of Alaska-Anchorage - battled 7th-seeded BYU-Hawaii for the regional title.
The Alaskan team, by virtue of playing on its home court in front of an enthusiastic sell-out crowd, was deemed a heavy favorite to defeat a BYU-Hawaii team that had finished as runner-up in the PacWest conference. But the Seasiders had shown great fortitude by knocking off second-seeded Cal-State San Bernardino and third-seeded Chaminade (the PacWest champs) to reach the title game.
The game was intense throughout, with both teams playing at a high level - BYU-Hawaii led by as many as eight points, and Alaska-Anchorage built up as much as an 11-point lead in a game that see-sawed back and forth. The crowd erupted on virtually every big play, stomping and cheering, and rooting loudly for the home team, of course, to pull through.
But the young men from Laie, led by senior point guard Corey Nielson and the high-scoring tandem of Lucas Alves and Paul Peterson, refused to buckle under the pressure. Down by 11 with 11 minutes to play, the Seasiders pulled to within six points with six minutes left, then to four with about three minutes remaining, and finally to just two points with under 30 seconds left.
With a shot at a regional title and a first-ever trip to the national tournament on the line, the storybook ending didn't happen. A pass from Nielson to Alves was deflected out of bounds off the Seasiders, and Alaska-Anchorage added four free throws to put the game out of reach with two seconds left on the clock.
Most players - having seen all their hard work and all their hopes and dreams of winning a title go awry - would have been devastated. They might drop their heads or perhaps even shed a few tears. It took a man to do what Corey Nielson did in those next couple of seconds and next couple of minutes.
Nielson grabbed the inbounds pass and tucked the ball under his arm, turned toward the Anchorage crowd and began applauding them. He didn't stop there. After the horn sounded, the two teams met to exchange congratulatory handshakes - Nielson finished that exercise by approaching the cheering throng of Alaskan fans on one sideline by putting his hands high above his head and he openly applauded their celebration. All the time, he smiled and nodded his appreciation. He repeated himself on the other sideline.
"I just wanted to thank them for being a classy crowd," Nielson said in the post-game press conference. "They rooted hard for their team, but there were no individual attacks against us. It was a great atmosphere, a great tournament, and I wanted to thank them for being classy."
Nielson's magnanimous gesture in the biggest game he ever played was also classy - one that fans of both teams will remember long after the memories of the actual score are gone.
That's what sportsmanship is all about. I'm glad I was there to catch Corey Nielson of BYU-Hawaii doing it right.
Most Recent Comment(s):