A Grateful Son's Father's Day Tribute

By
.(JavaScript must be enabled to view this email address)
Wednesday - June 15, 2011
|
Share

Del.icio.us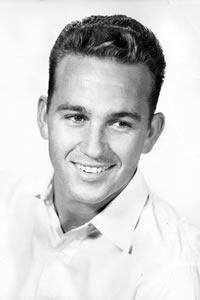 Dad Dale Hogue in the '50s. Photos from Bob Hogue
How many sons celebrate Father's Day by remembering their dad as their first coach? I know I do.
My dad was the most inspirational coach I ever had - he was there the first time I ever played catch; he was there when I won my first game as a pitcher, and then again when I suffered my first loss. He was there when I struck out virtually every at-bat the first season I played youth baseball, and he was there to cheer me on when I finished runner-up in the citywide Punt, Pass and Kick contest in football.
He was a sounding board when I sat on the bench during a frustrating year of high school basketball, but he told me to never give up. He then nodded approval on virtually every pitch of an undefeated championship senior baseball season. He was the stern taskmaster when my grades dipped one semester, warning me that it better never happen again. (It didn't!)
Then he was there to pat me on the back when I received an academic scholarship and made the baseball team in college, and again years later when I landed my first television sportscaster job, and, as the years passed, when I was elected to the state Legislature, and eventually when I landed my current position as commissioner of the PacWest.
I couldn't have achieved any of these things without his guidance.
Along the way, he was the patient coach who taught me how to throw a curve ball and how to dribble a basketball and how to pass a football. He took pride in doing everything the right way, so every game of catch or shooting baskets or running pass patterns was done over and over again until I perfected it. He accepted nothing less.
He also taught me about responsibility. When I wasn't on time for a Little League baseball practice one day, he sat me on the bench for the next two games. He lectured me often, but never crossly, and led by example. He coached every game to win, but never won at the cost of his integrity. He was intense and passionate and motivated by excellence. (He still is.)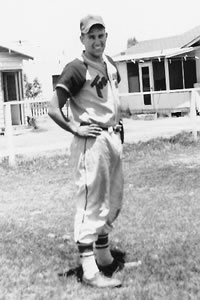 The author's dad back in the day
I saw him take a winless baseball program and make it into a champion. I also saw him coach undefeated title-winning football teams. Over the years, he worked as both a head coach and as an assistant, and he made the individual players he worked with even better. Those players learned to share his passion and enthusiasm and strong work ethic. They also found that the lessons he taught, and the inspiration he delivered made them winners in life. Years later, he would often hear back from many of those players - thanking him for the times he motivated them during their youth.
One of his former students even wrote a published story about the ways my dad taught him about striving for excellence, taking care of responsibilities and doing everything the right way. The story was titled Mr. Hogue's Wisdom, and it eventually became a book. The writer of the story admitted that he had been wayward as a young man, but he took my dad's many motivational messages to heart - and eventually become a pastor.
On this Father's Day, I profess my admiration, my respect and love for my dad. At 81 years old, he's moving a little slower these days, but his passion for life and teaching valuable lessons never wanes. Dale Hogue, who grew up in Arizona, married my mother in Hawaii and now lives with her in California (they will celebrate their 60th wedding anniversary this summer), is a credit to both the coaching and teaching professions, two things he did for more than four decades. Somehow in his long and wonderful life, he also has had time to be a writer, a poet, an artist and a master gardener. And back in the day he was a heckuva baseball and football player, too.
I'm just glad he's always been there to be the greatest coach and the greatest dad a son could ever have.
Happy Father's Day, Dad!
Most Recent Comment(s):