A Hoops Clinic To Remember

By
.(JavaScript must be enabled to view this email address)
Wednesday - June 10, 2009
|
Share

Del.icio.us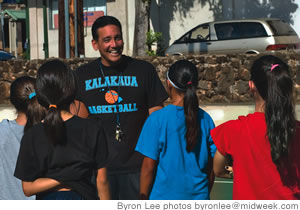 Mike Taylor coaches his 12-and-under Kalakaua girls team at Kaimuki Park
In his eight seasons as head coach of the Punahou girls basketball team, Mike Taylor has led the Buffanblu to state championship titles four times (2003, 2005, 2006, 2008) and the state runner-up finish three times (2002, 2007, 2009). As a player on the outstanding Punahou boys basketball teams two decades ago, he was on the 1990 squad that earned a state championship.
But his success hasn't gone to his head. After all, Taylor works in the elementary school classroom every day as a fourth-grade teacher, and he knows what it means to have his success come full circle.
"It's about giving back," he says.
He remembers his own days on the playground and in the gym, and who made the most impact on his young basketball life.
"Byron Mello was my first coach at Punahou when I played intermediate," he recalls. "He was big on teaching fundamentals. Then there was my JV coach Dave Eldredge, who was big on discipline and running drills for a purpose. In my senior year, there was Chris McLachlin, who not only stressed fundamentals and discipline and teamwork, but also brought in the mental side of the game, including integrity and passion and the importance of all these factors. Then Alan Lum made the biggest influence on me as I began coaching."
Looking back on his basketball life journey, Taylor says "giving back" is the one of the most important lessons he's learned.
"And now, it's pretty amazing that I'm coaching with the first-ever coach I played for, and the first one I coached with."
Coaches Lum and Mello join Coach Taylor, along with veteran local coaches Vince Goo, Dennis Agena, Alan Ching, Greg Dundon and many more top names, to "give back" and share their knowledge and passion for the game at the Punahou Summer Basketball Camp June 9-11 at Punahou's Hemmeter Fieldhouse.
"I want the kids to be exposed to different teachers," Taylor says. "That's what makes you grow as a player and as a coach."
Taylor himself takes that advice. "It's important that you never stop learning," he says. "When I watch a drill by Coach Agena, for example, I always pick up something new."
The star attractions at this year's camps - boys and girls grades 3-6 in the morning session, and boys and girls grades 7-12 in the afternoon - are two young players from the NBA.
"We've got Channing Frye and Steve Blake from the Portland Trailblazers coming in," Taylor says excitedly.
The reason he's so excited is that unlike some big-time stars who have been known to come and go at basketball camps in a matter of minutes, "These guys are workers!" Taylor says.
"They're both going to teach two hours per session, morning and afternoon on the first day. Then, on the next day, they'll switch off between morning and afternoon. Just seeing them in action and at their high level - Frye played at Arizona and Blake at Maryland - that's going to be exciting for both the players and us coaches. We're ready to soak in everything they teach us."
Taylor expects that his young campers - expected to be nearly 150 strong at each of the sessions - will be all eyes and ears when the NBA stars are teaching.
"The impact on our local youngsters and how they look up to professional athletes is amazing," he says. "And these guys want to give back, too. They're still young guys in the league and still hungry. They want to show everyone what it takes to succeed and how to get better. Our campers are going to feel very lucky, especially with the amount of time that they'll be spending together at the camp."
Taylor says the NBA stars and local coaches will be joined by camp counselors (i.e. local high school stars) from all over, including Kamehameha, Mid-Pacific, Punahou, Kukuku, Iolani, Kalakaua Clinic and more.
For more information about how your youngster can sign up, e-mail Mike at .(JavaScript must be enabled to view this email address). Part of the camp's proceeds will be donated to the Boys and Girls Club of Honolulu and the Kay Yow Cancer Fund.
Just giving back.
Most Recent Comment(s):