A Kailua Boy Is Ready To Soar

By
.(JavaScript must be enabled to view this email address)
Wednesday - April 04, 2007
|
Share

Del.icio.us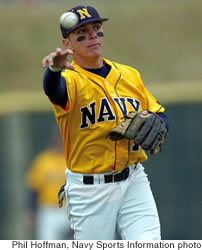 Michael Garcia starts for Navy's team
and will soon be a Navy pilot
Ten years ago, I threw out the first pitch of the Kailua National Little League baseball season. My catcher was a 12-year-old all-star by the name of Michael Garcia.
Garcia was king of the local ball yards back then, strutting his stuff in virtually every sport he tried. Those of us who watched him play baseball, basketball and football all believed that he would truly soar some day.
And we were right.
Next month, Garcia graduates from the Naval Academy in Annapolis, Md. From there, he goes to flight school in Pensacola, Fla.
"It's something I've been working hard for a long time," he says. "I just want to fly."
Ever since he was a youngster growing up in Kailua, Garcia said he "loved planes. I always wanted to be a pilot."
While he awaits the fulfillment of that dream, Garcia will soar on the college baseball diamond. As a senior infielder for the Midshipmen, he's Navy's leading hitter this year and one of the top hitters in the Patriot League, with a batting average hovering around .330.
"We've been picked to finish second in the conference this season," he says. "Hopefully, we can make the playoffs. I'm just happy to have the opportunity to play baseball."
Garcia was a three-sport star at Kalaheo where he played football, basketball and baseball. He was honorable mention all-state and all-OIA as a quarterback for the Mustangs football team, an all-state catcher/infielder for the baseball team, and a part-time starter at guard for the Kalaheo basketball teams that won the 2001 state championship and finished state runner-up in 2002.
Ironically, he lost out for his school's athlete of the year award his senior year to another outstanding multi-sport star, Ikaika Alama-Francis, a University of Hawaii football star destined for the NFL.
Garcia, meanwhile, is destined to serve his country.
"I'm not from a military background, but I wanted to be a pilot. I knew this was the way," he says.
After graduating from Kalaheo in 2002, Garcia received his nomination to the Naval Academy from Hawaii Sen. Daniel Akaka. He then went to a prep school in Rhode Island for a year to help him prepare for the big challenge ahead.
It was at the prep school that he was noticed by Navy's baseball coach. "The coach saw me there and asked me to play," he says.
As a freshman walk-on, Garcia rarely played, but by the end of his sophomore season, he had earned a starting spot as Navy's shortstop. As a junior, Garcia came into his own and by the midpoint of the season was the team's starting second baseman and he ended up as one of the Midshipmen's best hitters at .323 for the year.
This year, right from the start, his bat has been really hot.
"The first game of the season (against Florida A&M), I went 4-for-4," he says. "I think I went 7-for-12 that first weekend."
At the academy, he's one of several athletes with Hawaii ties. Navy's head football coach is former Hawaii assistant Paul Johnson. Hawaii's Kenny Niumatalolo and Ivin Jasper are Johnson's top assistants and the Navy quarterback is former Kapolei star Kaipo-Noa Kaheaku-Enhada.
"This year, we started the Polynesian Midshipmen club," he says.
Garcia is also about to start something else very soon - marriage. He's getting married to his high school sweetheart, Megan Power of Kailua, two days after he graduates on May 25.
"The wedding (set for May 27) is in North Carolina," he says, proudly. Don't be surprised if the guest list has a very Kailua feeling.
To say the least, Michael Garcia is flying high.
Most Recent Comment(s):