A Laie Reunion In South Bend

By
.(JavaScript must be enabled to view this email address)
Wednesday - October 28, 2009
|
Share

Del.icio.us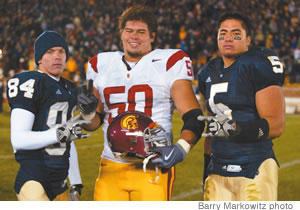 (from left) Roby Toma, Abe Markowitz and Manti Te'o
Just before Christmas last year, Notre Dame came to Hawaii for the Sheraton Hawaii Bowl. This month, a little bit of Hawaii went back to Notre Dame.
Manti Te'o, Roby Toma and Abe Markowitz - all former Punahou football stars who coincidentally grew up on the same street in Laie - were on the field at Notre Dame Stadium as the Fighting Irish battled arch-rival USC.
Also on hand to witness this historic occasion were HHSAA executive director Keith Amemiya, as well as yours truly and my photographer Barry Markowitz of Hawaii Kai and Samoa News.
It's a long way from Naupaka Street on Laie Point to big-time college football. But Te'o, Toma and Markowitz - who went to school together at Laie Elementary and played youth football together on the North Shore before matriculating to Punahou - all braved the college recruiting battles before ultimately making the decisions that would land them in this big game.
Their collective roads to get to this point were not exactly the clear-cut journeys you might expect from such highly talented football stars.
Te'o, the highly coveted linebacker prospect and Hawaii defensive player of the year, opted at the last minute to attend Notre Dame over Southern California in a move that made national news. Toma, the speedy all-state wide receiver, verbally committed to UCLA first, then after signing day changed his mind and followed his best friend to Notre Dame. Markowitz, the powerful lineman and discus/shot put star, turned down an offer from Michigan State to play for USC, the same school where his grandfather played in the 1950s.
Who could possibly have predicted this moment a decade ago when the youngsters played catch at Laie Park or rode the waves along the Windward shoreline?
But on a gorgeous fall afternoon in South Bend with all the autumn colors in full display, Hawaii's trio ran through the tunnel with Notre Dame's fabled "Touchdown Jesus" in the background and onto a field that was packed with fans and well-wishers from throughout the country. Amemiya smiled and waved as he spotted Teo's No. 5 and Toma's No. 84 for the Irish, and Markowitz's No. 50 for USC. Barry Markowitz snapped photos and took video from his camera position near the end zone. I was lucky enough to loop the field and say aloha to several big-name fans - including Hall of Fame NFL football coach Bud Grant, Hall of Fame Cincinnati Bengals star Anthony Munoz and even movie actor/big-time USC fan Will Ferrell.
It was a day for this Hawaii football fan to cherish and remember.
Neither Toma nor Markowitz would play in the game - Toma is red-shirting as a freshman at
Notre Dame while Markowitz is a backup center seeing limited playing time in his red-shirt freshman season. But Te'o would start at right side line-backer for the Irish and make an immediate impact in the game. His ferocious sideline tackle on USC quarterback Matt Barkley brought "oohs and aahs" from the jam-packed press box. By the end of the thrilling down-to-the-last-play 34-27 Trojan victory, Te'o would lead the Irish in unassisted tackles with four.
I briefly caught up with all three players on the field, shook hands and congratulated them, and Barry clicked their photos. All three were pleased to see their friends from the Islands.
Because of Notre Dame media rules, freshman aren't allowed to do post-game interviews, but USC has a more lax policy and I spoke with Barkley about Te'o in the USC locker room after the game.
"I think he's great. It's awesome what he's done as a freshman," the Trojans' freshman signal caller said. "I met him in an all-star game last year, and we have a great relationship. He's a terrific player."
Young Markowitz, who cheered on his SC teammates in the frantic final seconds, said, "It was like watching him in high school. You expect him to make big plays, and he was making big plays all day."
Amemiya summed it up best:
"I thought he was fantastic. He made Hawaii proud."
All three local players made Hawaii proud on this day - and with this continuing big-time college rivalry, there will be more days and more big plays to come for Manti Te'o, Roby Toma and Abe Markowitz of Notre Dame and USC - and Laie Point.
Most Recent Comment(s):