A Little Sporting Dis And Data

By
.(JavaScript must be enabled to view this email address)
Wednesday - April 20, 2005
|
Share

Del.icio.us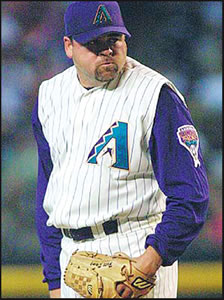 Mike Fetters: the answer to a good local trivia question
Spring musings from the Big Sports Guy (or some of the things I think about on those long walks on the Windward side):
• When Mike Fetters quietly retired recently, it marked the end of a 16-year career in Major League Baseball. That got me thinking: Has any other player with Hawaii ties played big league ball for that long?
Based on my search, the answer is no. Sid Fernandez and Mike Lum both played 15 seasons in the Bigs, and Lenn Sakata spent 11 years in what baseball players affectionally call The Show.
That means Fetters, who was a basketball and baseball star at Iolani, is number one on a very short list. From 1989 to 2004, with clubs like the Angels, Brewers, A's, Pirates, Dodgers, Twins and Diamondbacks, Fetters did a superb job as a relief pitcher you could count on. At one point, he was one of the top players in the game in career saves and games completed.
Ironically, you probably won't find Fetters' name on any of Hawaii's greatest lists. For example, Fernandez, Lum and Sakata are all listed among Sports Illustrated
's 50 greatest state athletes. It's time that the 40-yearold Fetters is recognized for his accomplishments, if not his endurance and competitive longevity.
• I'll bet I'm not the only local baseball fan who is frustrated and disappointed with the win-loss record of the University of Hawaii Rainbows. I really thought that this would be their breakout season. They've got a bunch of great young players, so hopefully they can still finish strong.
• I was surprised that UH recruiters passed on Kamehameha baseball star Nick Freitas. (They reportedly told him he was a "Division II or JC player," according to a published report.) Freitas, who is big, strong and fast, and hitting about .600 as of this writing, was recruited by several outstanding college programs on the Mainland (including USC and Pepperdine) and signed to play for former national champion Miami. Best of luck to him and his future baseball career.
• The flick Fever Pitch
is the best baseball movie since Field of Dreams
and The Natural
. I strongly recommend it, even if you're not a baseball fan.
• Am I the only baseball fan who doesn't care whether Barry Bonds comes back this season? I'm so sick and tired of this steroid thing that I could, well,stick a needle in it.
• I'll be doing some work for the Hawaii Arthritis Foundation later this month, and it reminds me that it was an arthritic elbow that closed out the career of Dodger great Sandy Koufax well before it should have. I still subscribe to the opinion that Koufax is the greatest pitcher of all time. Wicked fastball, unbelievable curve, and he pitched the last couple of seasons before retirement in incredible pain. I still wince thinking about how much each pitch must have hurt him. Hopefully, medical research can continue to fight to find a cure.
• It's great to see former NFL coach Jerry Glanville on the University of Hawaii football sidelines. Yes, he's a bit of a character, but he also knows his football. The Warriors' defense should ultimately be much better. And frankly, with the likes of USC, Michigan State and Wisconsin on next year's schedule, we're going to need all the help we can get.
• I'm also glad to see that the ILH is going back to a JV football schedule. For the past few seasons, too many young football players have missed out on the opportunity to play.
• I heard through the grapevine that ILH soccer officials are considering banning play on outside club teams during a portion of the year. Sad to see that. Soccer clubs, such as the Bulls and others, give young soccer players great opportunities for improvement and advancement, especially against strong Mainland opponents. Participation on club teams should be encouraged, not discouraged.
• I know that the sport of ultimate fighting was a big hit recently. Kudos to Niko Vitale, but don't count me among its legion of fans. Just way too violent for my taste. Looks like a street brawl.
• Finally, glad to see Tiger Woods win the Masters and Michelle Wie get a shot at another PGA tournament. When those two are playing, I'm suddenly the biggest golf fan around. The rest of the year, it's mostly football, baseball and basketball. But I'm especially appreciative of Tiger's and Michelle's classy excellence.
They're true role models for athletes in virtually every sport to follow. Greatness isn't measured by how many games we win, but by how we treat everyone around us.
Most Recent Comment(s):
Commenting is not available in this weblog entry.