A Look Back, Look Ahead In Sports

By
.(JavaScript must be enabled to view this email address)
Wednesday - December 29, 2010
|
Share

Del.icio.us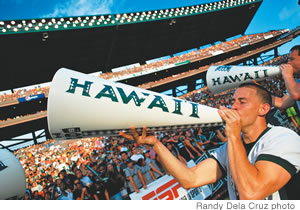 University of Hawaii cheerleaders and fans had plenty to shout about in the 2010 season
To say that 2010 was an amazing year in local sports is a true understatement. Without a doubt, Hawaii sports fans got more than their share of heart-pounding stories wrapped around a few heartbreaking moments. Questions abound about the way the 2010 sports year played itself out.
Who would have thought at the beginning of this year that we would be talking about the University of Hawaii moving out of the WAC and into no less than two conferences - the Mountain West for football and the Big West in most everything else?
Who could have predicted that the University of Hawaii softball team would reach the NCAA softball College World Series on national TV in dramatic fashion, while the highly ranked UH Wahine women's volleyball would be unceremoniously ousted in the second round of the NCAA tournament?
Who could have imagined that the Kahuku High School football team, unbeaten and ranked No. 1 in the state and considered to be one of the top high school teams in recent memory, would be eliminated from the playoffs because of an administrative error?
Who would have thought that one of Hawaii's greatest surfing legends, Andy Irons, would pass away in an airport hotel, and perhaps the greatest UH football quarterback of all time, Colt Brennan, would spend the end of the year recovering from a horrible car accident that left a Big Island doctor paralyzed?
Certainly no one but a few die-hard football coaches could have imagined that the Warrior football team would overcome dire preseason predictions and end the season nationally ranked by winning a share of the 2010 WAC football title with Boise State and Nevada.
Diamond dreams were realized, too - with the Waipio Little League team getting into our hearts with their thrill-a-minute victories in Williamsport, Pa., on their way to a United States title in the Little League World Series. Whoever predicted that Hawaii would become the darlings of American youth baseball over the past decade?
And who could have seen even more championships last spring? Hawaii baseball got back on the winning track when the 'Bows powered their way into the NCAA Regionals by winning the WAC Tournament.
Hawaii Pacific softball made diamond dreamers proud by winning the NCAA DII College World Series in St. Joseph, Mo., while the HPU baseball team made it all the way to the NCAA II West Region finals for the first time ever.
Did anyone foresee all - or any - of this happening just a year ago? If they did, I want to be with them on the next plane to Vegas.
So what's in store for 2011? Can we dare predict that all of our champions will repeat? Can we anticipate Charlie Wade's UH men's volleyball team making a run at the NCAA title? Or Gib Arnold's new-look Rainbow Warrior basketball team contending for the WAC championship?
Can we hope for last-second thrillers in the boys and girls basketball state championship games? Will Micah Christenson make it a senior season to remember at Kamehameha? Will the Neighbor Islands dominate for the second straight year in girls'hoops? Is Chaminade the team to beat in PacWest men's basketball? Or will Jet Chang and the BYU-Hawaii Seasiders rise above the crowd? And at HPU, can the Lady SeaWarriors make it back-to-back PacWest titles for the first time in history?
Will this be Michelle Wie's breakout year to greatness on the LPGAtour? Will we be watching day-after-day of over-achieving Hawaii talent in Little League baseball again this summer? Will the football Warriors be as great next fall as they were this past one?
Oh, how I wish I knew. Stay tuned for 2011. If it's anything like 2010, it should be a year to remember.
Most Recent Comment(s):