A Mt. Rushmore Of Isle Athletics

By
.(JavaScript must be enabled to view this email address)
Wednesday - July 21, 2010
|
Share

Del.icio.us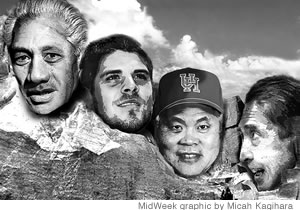 Imagine if Hawaii athletics had its own version of Mount Rushmore, and you got to select the four most prominent Hawaii sports figures to carve their images out of stone. In all of the Islands'sports history, who would you select? And why?
I've given this imaginary honor some thought and came up with my own set of criteria. My list includes those sports figures who competed or coached in Hawaii, and whose exploits made a major, positive impact on Hawaii's sporting reputation. Because of these criteria - which admittedly are personal and arbitrary (and might be different from yours), my list will not include some outstanding local sports figures whose body of work was accomplished mostly outside Hawaii - Jesse Kuhaulua, Akebono, Musashimaru, Sid Fernandez, Mike Lum, Lenn Sakata, Wally Yonamine, Bob Apisa, Jim Nicholson, Rockne Freitas, Jesse Sapolu, Mosi Tatupu, Duncan Macdonald, Bryan Clay, Tee Williams, Robin Ah Mow, Natasha Kai, etc.
I pondered the ultimate four figures whose images - carved into the Ko'olau above Kaneohe - might rival Washington, Jefferson, Lincoln and Roosevelt for the impact they made on Hawaii's sporting culture. I considered athletic and coaching greats Rell Sunn, Tommy Kono, June Jones, Tommy Kaulukukui, Derek Tatsuno, Red Rocha, Stan Sheriff, Herman Wedemeyer, Cal Lee, as well Patsy Mink and John Burns - all deserving. But my imaginary version of Hawaii's athletic Mount Rushmore ultimately had these four names to set in stone: Duke Kahanamoku, Les Murakami, Colt Brennan, and Dave Shoji.
Duke is a no-brainer. He's the George Washington of Hawaii sports. A legendary surfer and swimmer who competed with great renown in Hawaiian waters at the start of the 20th century, and whose greatness sent him on to Olympic gold medal glory. And he introduced surfing to the world. He is the icon of icons in the local sports world. There may never be another Hawaii sports figure quite like him.
Les Murakami helped put the University of Hawaii on the map in the 1970s, '80s, and '90s. A former standout baseball player at St. Louis, he put together a team of top local talent and key Mainland talent and sent them to national prominence and all the way to the College World Series championship game. Perhaps more important, his business and political connections helped set in motion the building of what eventually became the beautiful baseball stadium which now carries his name.
If surfing is our most historic sport, football has become our most popular. That's why Colt Brennan, the No. 1 star in University of Hawaii football history, makes this imaginary list. No Hawaii player throughout the decades of Warrior football has made more of a splash nationally - where he was a Heisman Trophy runner-up - and on the psyche of local gridiron fans. During the pass-happy days of the June Jones era, this southern Californian quarterback dazzled sold-out crowds and created a must-see atmosphere for Hawaii football games.
Finally, there is Dave Shoji, the hugely-successful volleyball coach who has guided UH to more than a thousand victories, or hundreds more than any other coach in the state's history. He's coached All-Americans and national champions and he's made Wahine volleyball the hottest such ticket in the entire nation. His competitiveness, class and integrity make him a perfect fit amongst Hawaii's sporting giants.
That's my version of Hawaii's sporting Mount Rushmore. You might have entirely different names and completely different criteria. That's the beauty of this summertime exercise - it's all in the imagination. Feel free to share your thoughts.
Most Recent Comment(s):