A New Boost For Football Backers

By
.(JavaScript must be enabled to view this email address)
Wednesday - August 19, 2009
|
Share

Del.icio.us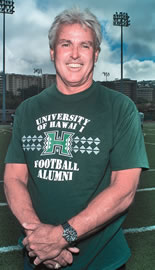 Don Weir: 'This is my school, this is who I played for!'
Don Weir was a senior defensive back when he played in one of the most memorable upsets in University of Hawaii football history. It was in the early 1970s, and Weir was finishing up his two-year playing career for the Rainbows.
"People forget we were an independent back then. We would play Stanford one week and Puget Sound the next. Or we'd have Grambling on our schedule and then Cal Lutheran. It was really up and down," he recalls.
But then there was that autumn afternoon in 1973 on the road at the University of Washington's Husky Stadium.
"We were huge under-dogs (as much as 50 points, reports say). I remember the smack talk in the newspapers, and we went up there to play in this enormous stadium," he says. "Then our defense really stepped up. Harold Stringer had a couple of key interceptions, Levi Stanley lit up somebody, and Dexter Gomes hit one of their guys so hard he barely got up and was shaking his head. I don't think people realize how tough players from Hawaii really are; I don't think Washington was ready for that. It was phenomenal."
Hawaii won, 10-7.
Thirty-four years later, Weir watched as Hawaii came back to beat Washington to finish an undefeated regular season in 2007. By now, people across the nation were finally beginning to understand just how tough these Warriors were.
Weir had become volunteer president of the UH Letterwinners Club. A year later, he interviewed for the very important position as executive director of the UH football booster club Na Koa. He impressed the selection panel with his passion and enthusiasm.
"I started pounding on the table," he recalls. "I said, 'This is my school, this is who I played for, and this is my job!.'"
The committee took notice and hired Weir as Na Koa's executive director this past winter. He began his new duties on March 1. Since then, he's been spreading his passion and enthusiasm, and trying to build membership numbers even in a tough economy.
"Na Koa has about 850 members," he says. "But look at our population base - it's upward of 2 million. I look at those who aren't signed up yet as an opportunity. I'm not out there asking people for money. I'm interviewing and asking them to help be a part of us."
Weir says Na Koa helps the football program out to the tune of about $1 million a year. "Ticket sales pay for financial aid, like room, books and tuition," he says. "Na Koa does the other stuff, like knee braces, summer school, coach's cell phones, training table and help in (the travel process and logistics of) recruiting. Money is raised through memberships, fundraising events and sponsorships. We're also starting our first endowments."
The next big event for Na Koa is an annual fundraiser in downtown Honolulu. Murphy's Pigskin Pig-Out will be held Thursday,Aug. 20, from 5 to 9 p.m. at Murphy's Bar & Grill.
"The entire proceeds go to helping the football program," Weir says. "We've got a live auction and silent auction. One of the premier items will be a weekend getaway for two to San Diego, (complete with) airfare, hotel, meals and tickets to the Redskins-Chargers game, (where two lucky fans) will hopefully get a chance to see Colt Brennan."
Weir is very excited about the upcoming season. The Warriors open up against Central Arkansas, Sept. 4, at Aloha Stadium. UH also plays host to Boise State, Fresno State, Utah State, New Mexico State, Navy and Wisconsin this 2009 season. Weir hopes fans will step up and find out more about Na Koa.
"I'm inviting everyone who's already a member, or who is interested, to come to the last full scrimmage before the start of the season. It's Saturday, Aug. 22, in the morning. I'm hoping people will drop by the Na Koa office (just mauka of Klum Gym) before the start of the scrimmage. I'll be making coffee."
Weir is hoping his passion and enthusiasm for Hawaii rubs off on those who attend.
"It's like I say in all my e-mails: 'If you buy a ticket, you get to sit in a seat. If you join Na Koa, you're a part of the team.'"
Most Recent Comment(s):