A New Golf League At Turtle Bay

By
.(JavaScript must be enabled to view this email address)
Wednesday - April 30, 2008
|
Share

Del.icio.us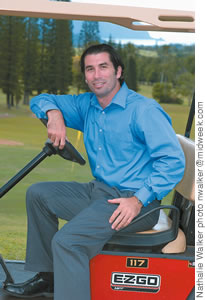 Matt Hall: 'a social tournament atmosphere'
You don't have to be on the Arnold Palmer Course at Turtle Bay resort for five minutes to recognize why it's one of the most exquisite golf courses in the entire world. The virtually perfect layout gives golfers the opportunity to enjoy great ocean views while they attempt to tame a very long course that is rimmed by majestic ironwood pines on the back nine.
Add to that the challenge of Hawaii's famous trade winds, and you've got an incredible North Shore golf experience.
Now it's an experience that golfers from all over Oahu, along with visitors to the resort, can enjoy even more. This past week, Turtle Bay started the new Honu Golf League, a kind of golf social mixer that allows golfers from all over to play the famous courses here on a weekly basis for an inexpensive price.
For just $50 (plus an initiation fee of $25), visiting and kama'aina golfers can enjoy a round of golf on either the Palmer or Fazio courses at Turtle Bay, plus their cart, prizes, bottled water, practice balls and pupus at the golf course's café, Lei Lei's. The Honu Golf League tees off each Wednesday at 1 p.m. from now until Aug. 20 (more sessions are probably likely after that).
The league is the brainchild of Turtle Bay's hardworking director of golf Matt Hall. Hall also is president of the Aloha Section of the PGA and a member of the national board of directors for PGA America.
"We have a lot of people from different groups, and this is a way to get people together - and inexpensively," Hall says. "It's a way for people to meet new friends and mix with people from the North Shore and from the resort. I even got a call this week from a guy in Honolulu, who told me he's coming up next week with his friends and he said 'sign me up!'"
Hall sees the league as an opportunity to broaden the influence of his favorite sport. "The PGA has a program they call 'Play Golf America' and so it's similar to that. We see it as kind of a social tournament atmosphere."
Hall, 33, has been at Turtle Bay for more than five years. Previously, he was an assistant pro at the Hapuna Golf Course at Mauna Kea on the Big Island. He credits his start in the game to a professional from his home state of Connecticut, Peter Pulaski. It was Pulaski who nurtured Hall's love of the game at a young age.
"When I was 13, I was messing around on an empty lot near my home and I found a rusty old golf club," he recalls. "I also found some golf balls, and so I started hitting them back and forth in my back yard."
Before too long, Hall received a hand-me-down golf bag and clubs from his grandfather, and decided he needed more space to play. "I went out late in the day and snuck on (to a nearby country club)," he says. "I started chipping and putting and playing back and forth on these two holes away from the clubhouse."
He couldn't keep sneaking on forever. Eventually Pulaski, the head pro at the course, discovered his play and instead of kicking him off, he gave Hall a chance to earn his way on.
"He said if you come out every Sunday and pick up all the balls on the driving range, I'll let you play for free the next week. That was the greatest thing for me."
That first job on a golf course led to four years of working there, all through high school. Hall eventually decided he wanted to be just like Pulaski and earned a degree in marketing and golf course management at New Mexico State University. He and Pulaski remain friends to this day.
Now Hall is trying to give back to the game he loves by encouraging others to join the new Honu Golf League. "It's great to be involved where you can see development in people," he says. "But best of all, it's the friendships you make. Golf is that common thread that brings people of all walks of life together."
For more information on how you can join the Honu Golf League at Turtle Bay, call 293-8574.
Most Recent Comment(s):