A New Record For Wins At HPU

By
.(JavaScript must be enabled to view this email address)
Wednesday - April 14, 2010
|
Share

Del.icio.us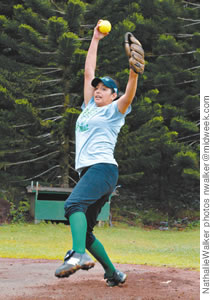 Sherise Musquiz: a pitcher not a thrower
Sometime in the next couple of weeks, Sherise Musquiz will make history. And what will she likely do to celebrate?
"I love to sleep," she says. "If I have the time, sleeping is the best."
Perhaps it's not surprising that a good 10-hour sleep after yet another big win is a great stress release for the senior softball pitching star at Hawaii Pacific University.
That's because Musquiz (pronounced Moos-keez) gives it her all every time she steps into the pitching circle for the nationally-ranked Sea Warriors.
"I don't look at it as an individual accomplishment. It's more of a team accomplishment," she says humbly about the record she's about to set.
The record is most wins in a pitching career at HPU. The current mark of 77 victories in a four-year career was set by Susie Schoales 10 years ago. Musquiz could eclipse that mark this weekend at Hawaii-Hilo or next weekend against Chaminade.
What's amazing about the record is it means that Musquiz will have averaged nearly 20 victories in a season for four straight years. Not bad for the 6-foot right-hander from Pico Rivera, Calif., who walked on to the team four years ago.
"We were so blessed to have her walk on," says HPU head coach Bryan Nakasone. "Originally, her sport was volleyball. When she decided to walk on to the softball team - that has been a remarkable blessing. She has truly been remarkable for us over the four years."
Musquiz was actually a three-sport star at El Rancho High School in southern California. She played volleyball, basketball and softball, and was an all-star in both volleyball and softball. But she maintains that softball was always her first love.
"I started playing when I was 7 years old," she recalls.
"I had the height and I wanted to be a pitcher. I started working on it with my dad and mom (Ruben and Eva) in the back yard.
Then, when I was 8, I got a pitching coach (Sharon Nichols).
She worked with me, three times a week at first, all the way through high school."
Musquiz was named first team all-CIF and was also the league's MVP. Still, she wasn't heavily recruited. But a vacation trip to Hawaii changed her life forever.
"When I was in middle school, our family went to Maui on vacation and I fell in love with Hawaii," she says. "I love the location, the beaches, the weather. I told my mom, 'This is where I want to go to college.'"
In her senior year, she sent an e-mail to HPU inquiring about volleyball and softball. Somehow, the interest eventually turned to the softball diamond instead of the volleyball court ... and the rest is history.
She made an immediate impact as a freshman starter for the Sea Warriors, winning 14 games and pitching HPU into the NCAAregionals. As a sophomore, she and fellow pitching star Courtney Kessell led HPU to the PacWest championship and the most overall victories in the nation. That year, Musquiz had an impeccable 19-3 record. She bettered it as a junior last year, going 21-4 with a miniscule 1.19 ERA (best in the PacWest) in once again helping the Sea Warriors win the conference title and a trip to the NCAA tournament.
This season, she's continued her remarkable improvement, with well over 20 wins to date - and counting - against only one loss. HPU currently leads the PacWest standings and is ranked No. 1 in the west region and is an odds-on favorite to host the first round of the NCAA regionals.
"She has a good work ethic and she's mentally strong," says Nakasone. "She's not a strikeout pitcher, but she has the confidence in her defense and that allows her to make things happen."
"I've learned to become a pitcher, not a thrower," Musquiz says of her continuing improvement at HPU. "I credit the coaching staff for really helping give me this opportunity to pitch at HPU."
And with all the hard work, a long sleep afterwards gets some additional credit for history-making pitcher Sherise Musquiz.
Most Recent Comment(s):