A New Windward Hoops League

By
.(JavaScript must be enabled to view this email address)
Wednesday - May 19, 2005
|
Share

Del.icio.us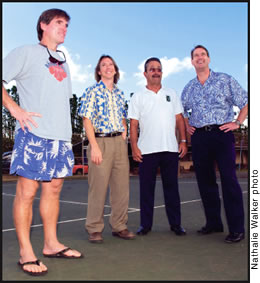 From left, Ray Schwab, John Schofield, Wayne
Kimi and Jeff Griswold
You've heard of the NBA, but how about the NJB?
While thousands of local basketball fans are enjoying the drama of the current National Basketball Association playoffs, a group of dads in Kailua are starting a new chapter of National Junior Basketball.
The NJB is a youth basketball organization, founded in southern California, that just celebrated its 20th anniversary season. Over the past two decades, it has expanded into six states, including Hawaii. NJB tournaments have been popular in Honolulu for the past several years.
This summer, NJB expands to the Windward side of Oahu.
"We're doing this because we've noticed that there is a large group of kids who love the game and want to play more basketball," says Jim Lyon, a Honolulu-based civil engineer and the NJB's new Windward Chapter director. Lyon's son Blake, a fourthgrader at Le Jardin Academy, has already played several years of in-season basketball in the Kailua Basketball Association.
The NJB will allow up to 180 interested youngsters to get ready for their regular winter basketball leagues by signing up for this new Summer/Fall league this month.
Attorney Jeff Griswold has taken over the role of league president. Jeff's son Luke, is a fifth-grader at Le Jardin. Environmental planner John Schofield is the league's new VP, whose basketball playing sons are Ben and Alexander, fifth-grader and third-grader at Lanikai Elementary. Hardware consultant Ray Schwab is the new treasurer. Ray's son Alex is a fourth-grader at St. John Vianney.
Lyon says that lifelong youth basketball coach Wayne Kimi was "our inspiration to start this new league. He runs a free clinic at Enchanted Lakes Elementary (on Sunday mornings) and he literally lives, breathes and eats basketball," says Lyon.
Kimi, who grew up in Hilo, says his love for the game blossomed on the Big Island. "Back then, Hilo was really a basketball town. Everything in town was about basketball."
When Kimi moved to Kailua "about 30 years ago", he says, he brought his love of playing and coaching basketball with him. "When you see the kids develop, it just lights up your life," he says. "My philosophy is patterned after John Wooden of UCLA. We teach them about basketball, but we also teach them about life."
But as the veteran coach discovered a little over a year ago, life isn't always fair. Last April, Kimi suffered a stroke. Coaching basketball, he says, got him healthy again.
"I started doing all the drills and all the fundamentals myself and that helped me recover," he says. "Now I can walk without a cane."
This summer Kimi will be the new league's player agent.
"This league should really increase the talent level of all the kids involved," he says. "I always noticed that there were a lot of leagues in town, but nothing (for the kids on the Windward side) after the KBA and KYAC seasons ended. The (NJB) will give them something positive to do."
"We look at guys like Wayne Kimi and (NJB coaches coordinator) Chic Hess, and we realize how much we can learn from them," Lyon says. "This will really help the kids who are not playing football or soccer, who really want to hone their (basketball) skills."
And as the NJB mission statement cites, the goal is "to inspire our youth, to emphasize teamwork, entirely free of adult lust for glory. Everyone is a winner at NJB!"
Registration is open to boys and girls entering the third through the eighth grades. Online information is available at www.windwardhawaii.d4sports.com. Walk-in sign-ups will also be held Sunday, May 22, and Sunday, May 29 from 1-3 p.m. at Enchanted Lakes Community Park.
Most Recent Comment(s):
Commenting is not available in this weblog entry.