A Perfect Fit For Oahu's Athletes

By
.(JavaScript must be enabled to view this email address)
Wednesday - December 10, 2008
|
Share

Del.icio.us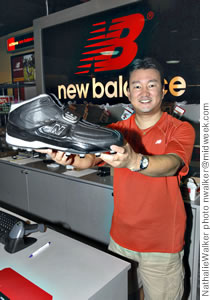 New Balance store manager Darin Hashimoto
Darin Hashimoto loves to show off his favorite photograph. It's a great picture of Waipio Little League all-star Christian "CBoy" Donahue jumping for joy in wild celebration after Waipio won the 2008 Little League World Series title this past summer in Williamsport, Pa.
While Darin appreciates the fact that the photo is of a Hawaii world champ and was made famous worldwide in Sports Illustrated, he's most proud of the fact that C-Boy is jumping high in New Balance shoes.
You see, Hashimoto is the manager of the New Balance Hawaii shoe store in Honolulu's Ward Centre.
"When the team got their shoes, they painted the (New Balance) logo gold to match their uniform colors," Hashimoto says. "His dad (Waipio manager Timo Donahue) is getting us a special copy of the photo and we're going to hang it right here at the store."
Hashimoto also is proud of the fact that the Waipio All-Stars are just one of the local teams that have outfitted themselves in New Balance athletic shoes.
"Timo heard about us and came to our store long before the playoffs started," Hashimoto recalls. "He had tremendous confidence in his boys and told us they were going to go far, and I was like 'Sure, sure.' I'll admit I was shocked when they did so well. It was awesome."
But Hashimoto isn't shocked that his athletic shoes are in such demand locally. "We custom fit the kids. We have wide width, and that's so important for local kids," he says.
Hawaii's unique cultural makeup, as well as the fact that so many kids go barefoot for so many years, make custom fitting important.
"Because they go around in their bare feet, many kids in Hawaii naturally get wider feet, and we fit a lot of wide and extra wide shoes," he says.
Hashimoto's willingness to service local athletic teams at their practice site also has increased demand.
"Word got out that we take care of the kids by going out to the field. We size them there, so their parents don't have to fight traffic. When the shoes come in, we deliver them right to the fields," he says. "We got a phone call from the Waianae Pop Warner football teams. I ended up fitting all six of their teams."
Now one of those Waianae teams will be going to the Pop Warner World Championships at Florida's Disney World this month, meaning his little shoe store has the chance to be showing off another world championship photo in the near future.
Hashimoto smiles at the thought of that very real possibility. With the popularity of his shoes and with the busy holiday shopping season in full swing, he has a great deal to be smiling about these days.
Hashimoto grew up in Hilo, where he played some Pop Warner football and Little League baseball. He got into the shoe business about a dozen years ago at Runner's Route in Honolulu. He joined New Balance Hawaii four years ago and manages its store at Ward Centre.
By mostly word-of-mouth advertising, he's built up a strong clientele among local leagues, teams and athletes. His shoes - about 40 percent made in the United States and the rest made in China, he says - meet the needs of many sports, including football, basketball, baseball, softball, soccer, track and field, volleyball, running and cross-training.
"What I'm most proud of is that we've sold about 700 pairs of cleats to these big kids in Hawaii and not one (pair) has come back split," he says. "A lot of that has to do with the wide width.
Because of the multiple widths we have, it really makes a difference. What New Balance is all about is getting the right fit and right shoe for your needs. We get to know your foot and your specific needs and work with you."
Darin Hashimoto is one local merchant hoping to see many more customers jumping for joy this holiday season.
Most Recent Comment(s):