A Positive Force In Girls Volleyball

By
.(JavaScript must be enabled to view this email address)
Wednesday - August 04, 2005
|
Share

Del.icio.us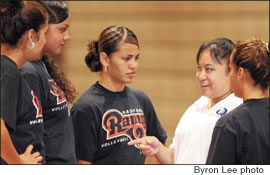 Coach Sheri Sagayaga (in white) works with (from
left) Olivia Stiller, Tiana Manuma, Briana Salanoa
and Britni Salanoa
As a volleyball player at Roosevelt High School in the '80s, Sheri Sagayaga was what coaches call a "scrapper." At 4 feet 10 inches tall, what she lacked in height, she more than made for up with grit and determination.
She would play anywhere — setter, outside hitter, and even at her height, middle blocker. Floor burns were a way of life for her.
"I was told by others that I was never going to make it because I was too short," she recalls. "But I knew that if you train hard and play with no regrets, then I could do it."
The saying "No Regrets" became her motto. Even after she blew out her knee and missed her chance to play at Hawaii Pacific, Sheri never gave up on the game. In fact, she gave back and "went right into coaching," she says.
She honed her coaching skills from the best. From Dan Kitashima at Kamehemeha, she learned how to run a program. From former Olympian Pedro Velasco, she learned technique, and from veteran University of Hawaii Wahine assistant Charlie Wade, she learned the competitive aspects of the game.
"The state has such great coaches," she says. "We all learn from each other. I wouldn't be so successful without other coaches, my family and my assistants."
Sheri has found outstanding coaching success in both the high school ranks and the club ranks. After cutting her coaching teeth with the powerful ASICS program, she has guided girls volleyball teams at Maryknoll and Campbell, won an OIA title at Moanalua, and now coaches the varsity at Radford.
At Radford, where she begins her second year as head coach this month, she has already seen a tremendous turnaround.
"All the players worked really hard this summer," she says. "They really see the difference and feel really good about themselves."
For the past several years, Sheri has also been a coach and the director of the Quicksets volleyball club. It's with Quicksets that she has made the biggest difference in young girls' lives.
As everyone in Hawaii sports knows, this state is brimming with great volleyball talent. But Coach Sheri wanted to go deeper into the talent pool. "I saw the need especially for the OIA kids," she says. "We needed to give them their opportunity."
From that simple dream, Quicksets has grown into a club of seven full teams, including more than 80 girls. This past year, more than 90 percent of the high school seniors in the club received college scholarships.
Her players often end up at schools you may have never heard of. Like Trinity and Regis and Siena, for example. But they're all living out their volleyball dreams and getting a free college education at the same time. That's a remarkable feat.
"A lot of the kids I've coached weren't all-staters," Sheri says. Somewhere along the way, these were players a lot like she was in high school. "Nobody thought they could do it. But I watched it in their eyes; I saw them grow."
From Quicksets to Radford, Coach Sheri has the same positive philosophy.
"The key to becoming a champion is being humble," she says. "You can't expect instant gratification; it takes time. Success comes from technique and attitude and believing in themselves. And making mistakes is OK. You just have to learn from them."
Coach Sheri stresses the importance of academics, too. "I always let my players know that I'm there for them," she says. "They can call me anytime."
It's the kind of compassionate coaching style that makes Sheri Sagayaga a giant in the world of local volleyball. No regrets.
Most Recent Comment(s):
Commenting is not available in this weblog entry.