A Quiet Coach And His Legacy

By
.(JavaScript must be enabled to view this email address)
Wednesday - November 30, 2005
|
Share

Del.icio.us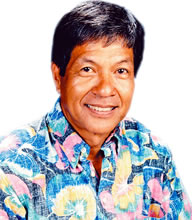 Coach James Alegre
It doesn't get the attention of the Iolani Classic. You probably won't see any Blue Star High School All-Americans playing in it. Sometimes its highlights don't even make the local TV sportscasts.
But to Hawaii, the James Alegre Invitational Basketball Tournament at Radford High School is a very important part of the annual high school hoops pre-season calendar.
Call it the Quiet Tournament. Just like its namesake.
I knew him as "Jimmy," a man small in stature, but gigantic in heart. The students at Radford knew his as "Mr. Alegre," but his players just called him "Coach."
Every time I saw him, whether it was during the regular season or the post-season, he greeted me with a smile. That was his nature. His warm smile said everything you needed to know about the man.
"He had this gentle kindness about him," says Radford's current head basketball coach Kai Enos. "He wasn't the type of guy to fire out at the boys. He had this special ability to communicate with them."
James Alegre passed away in October of cancer. But his name and his reputation for excellence live on. Radford names its gymnasium after the quiet coach who led his team to more than 600 victories and four state championships. And after he retired from the basketball sidelines to become his beloved school's athletic director, they named this tournament after him.
"I'm just pleased that we were able to honor him before he died," says Enos.
This year's Alegre Invitational is the seventh-annual tourney. It features many of the top teams that the legendary coach faced numerous times, including some that will battle for this year's state title. The field reads like a Who's Who of the top programs in Hawaii - Iolani, Punahou, Kahuku, Kamehameha, Leilehua, Moanalua, Radford, and Alegre's alma mater, Honokaa of the Big Island.
"This is one of the premier tournaments in the state," Enos says. "Iolani is always here, Kamehameha is always here. We've had some great games."
The tournament is scheduled to begin Thursday, Dec. 8, and runs for three straight days, concluding with the championship games on Saturday. All contests are slated to be played in Radford's James Alegre Gymnasium.
It's a fitting tribute to a man who brought so much joy to the basketball fans of Hawaii.
"I don't know anybody who can duplicate what he did," Enos says. "He admired (legendary UCLA head coach) John Wooden and he used Wooden's philosophy of the Pyramid of Success. He instilled those values in his players and he did the same with me. I know that philosophy has always helped me try to do the right thing."
Doing the right thing was another one of Coach Alegre's mantras. Whether it was on the court or in the classroom or out in the community, the veteran coach always wanted his players to do what was right. Coach Enos has carried on that tradition.
Enos is a former Kaimuki High School basketball player who went on to get his first varsity coaching position at Waianae High School. Although he only got to match up with Alegre on the court for one season, he recalls the experience very clearly.
"I remember he had a young team and we barely won," Enos says. "He talked with me after the game and told me 'keep the boys together.' That was so important to hear. Nowadays, you don't realize how hard a job that is to keep the team together. But Jimmy did a great job at that. He knew it wasn't about who scores the most points or who got his name mentioned in the paper, but what was best for the team."
In honor of the great coach, his wife Marsha, along with the help of the coaching staff at Radford, have established the James Alegre Scholarship Foundation for young athletes. Donations to honor this worthy cause may be made to: Radford High School c/o Principal Robert Stevens 4361 Salt Lake Blvd. Honolulu 96818.
The legacy of James Alegre lives on.
Most Recent Comment(s):