A Rare Clinic With Coach Agena

By
.(JavaScript must be enabled to view this email address)
Wednesday - May 11, 2011
|
Share

Del.icio.us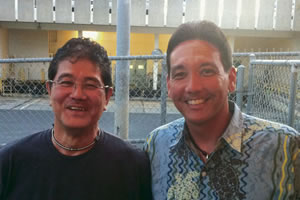 Coach Dennis Agena and coach Mike Taylor. Photo courtesy Mike Taylor
Mike Taylor was excited. He had just picked up his 12-year-old twins, Lexie and Logan, from their respective basketball practices, and now he was excited to talk about one of his favorite subjects: Coach Agena.
"Everyone calls him 'Coach Agena,' both here and on the Mainland. For most people, I don't think he has a first name," Taylor says with admiration. "There's only one Coach Agena. He's one of a kind."
Taylor is excited because he will get a chance to work with Coach (Dennis) Agena again both this month and next at a couple of clinics and camps on Oahu.
The first is the Hui O Momilani Basketball Clinic - for younger basketball players in grades 1 through 6 - scheduled for Saturday, May 21, at Pearl City High School's gym. The second is the Moanalua and Kalakaua Camp - a more advanced four-day event for boys and girls between the ages of 7 and 18 - scheduled for Tuesday through Friday, June 7-10, at Moanalua High School gym.
"Coach Agena usually doesn't do many camps on Oahu, but this year Kalakaua gym is being renovated, and the regular Kalakaua summer clinic won't be happening there, so this is a great chance for those kids who have been on the waiting list," Taylor says.
Agena's Kalakaua Clinic is so popular that Taylor says the waiting list is up to four years now.
He's looking forward to working with several generations of coaches at the clinic and camp.
"I played for Coach Alan Lum, and he played for Coach Agena," Taylor says. "Plus, I expect to have some of the players I coached also there. This is going to be so fun - we'll get to feed off the energy of Coach Agena. He's an amazing teacher, with so much energy and so much to teach."
Ironically, Taylor didn't get a chance to attend Agena's camps himself until after he got out of high school. But he started coaching at age 18 and was immediately told that Kalakaua was the place to hone his skills.
"That was 1990," he recalls. "I was told, 'If you want to learn to be a coach, go to Kalakaua and just watch.' I remember sitting there just taking everything in that Coach Agena taught. He was already a legend here locally, but he took me in and helped me so much."
Taylor, whose full-time job is as an elementary school teacher at Punahou, coached for 21 years at both Punahou and Maryknoll, guiding the Buffanblu to four girls basketball state championships. He surprised a lot of people this spring when he stepped down.
"I wanted to spend more time with my family. Now I can enjoy chauffeuring them around to their games and practices without the stress of thinking about what I have to do with my coaching job.
"This is a great time," he adds. "I'm not retired; I'm just taking care of my priorities - first my family, and then giving back to someone who has helped so many of us. I'm doing this for Coach Agena. He's done so much for the coaches and players in our lives. People are asking me if I'm going to be like him now, and I tell them there's only one Coach Agena!"
For more information on the Momilani clinic, email .(JavaScript must be enabled to view this email address). com, and for the Moanalua camp, email .(JavaScript must be enabled to view this email address).
Most Recent Comment(s):