A Real Rocky Mountain High

By
.(JavaScript must be enabled to view this email address)
Wednesday - July 07, 2010
|
Share

Del.icio.us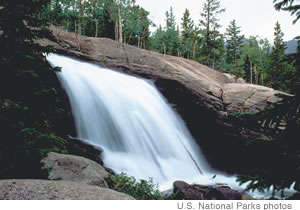 Alberta Falls: one of many 'wows' at Rocky Mountain National Park
Pardon me if I tell you a little bit about my summer vacation. I've been envious over the years when fellow MidWeek columnist Dan Boylan talked about his summer travels. I figured it's time that I pulled out notes from a recent glorious week in Colorado. Listen up, Dan!
There were many Hawaii ties along the way.
First, my good friend Jim Gaddis of Kahala text-messaged me about watching out for radical weather changes. Jim was fly-fishing near Boulder when the place he was staying was pelted with several inches of hail. I took note and made sure I had cold-weather gear, bad-weather gear and a suitcase that was more full than usual.
I shouldn't have bothered. The weather in the mountains of Colorado the week of my travels was magnificent, with daytime temperatures in the 70s and 80s, and overnight lows in the upper 40s. OK, by Hawaii standards, very cold nights. But I found it invigorating.
Colorado has been besieged by a nasty bug lately, specifically a pine beetle that is killing thousands of trees annually. Scientists and governmental officials can't seem to find an answer to stop the magnificent green trees from turning burnt red, then brown and then lifeless. I'd heard a little bit about this beforehand, but only seeing it up close made me realize how much the forests are changing. If there is any consolation in the pine devastation, it's that many areas are now being filled up with aspen, ash and other trees.
I camped in Rocky Mountain National Park for a few days where the adjacent campsite featured a Navy officer and his family who were just about to move to Ford Island on Oahu. It was the second go-round for the officer, who had previously lived in Kunia.
We ran into his family at famous Bear Lake, where the mirrored images of the incredible mountains shimmered on the surface of this pristine pond located well above the 9,000-foot level. A mile hike to gushing Alberta Falls - its volume of water at a peak because of a later-than-normal snowfall- was the highlight of many hikes in the national park. It wasn't uncommon to run into hikers who had some kind of a Hawaii connection.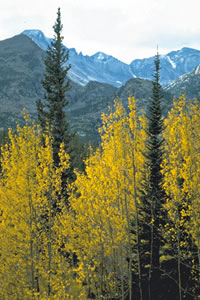 One of Colorado's scenic vistas
The magnificence of Rocky Mountain National Park can be measured by the amount of times you stop and say "Wow." Let's just say I got wowed a lot! Elk, many with prominent racks, came right up to the campsite, and I even got a chance to see a huge bull moose up close.
Over the Continental Divide and summits more than 12,000 feet eventually brought me to Grand Lake, the source of the historic Colorado River. Grand Lake is historic itself, with sailboat races that go back more than a century. My wonderful hosts, Tom and Mary Goodfellow of the appropriately named Grand Escape Cottages, are frequent visitors to the Islands. I'd strongly recommend a getaway to this adorable little town located on the western slope of the park.
My daughter Jesica had recommended a visit to Breckenridge, so I thoroughly enjoyed a scenic drive along the Blue River to the historic ski village located in the midst of Colorado's famous 14-ers, named for the number of 14,000-foot peaks in the state. Breckenridge's downtown is a colorful array of stores and restaurants that kept this picture-taking traveler amazed at every corner.
Finally, there was Vail, where the greenery of Colorado's famous ski resort town left me in awe. I listened to music at Gerald R. Ford Amphitheatre and thoroughly enjoyed the great Swiss and other European architecture in the village. In more than one shop I ran into other travelers who were jealous that, when my vacation was over, I got to go home to Hawaii.
I feel lucky indeed - lucky enough to share the joys of a truly great vacation in beautiful Colorado. And hopefully I've even made my columnist buddy Dan Boylan just a little envious.
Most Recent Comment(s):