A Scoring Star Who's Too Unselfish

By
.(JavaScript must be enabled to view this email address)
Wednesday - April 05, 2006
|
Share

Del.icio.us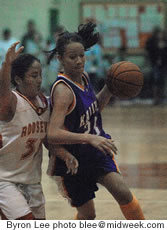 Shanadee Canon drives to the
hoop against Roosevelt
Shanadee Canon of Kalaheo High scored 30 points against defending state champion Punahou during the pre-season and then scored 27 points in conference play against Kaiser.
But her coach still calls her "too unselfish."
Canon is a scoring machine ready to go off. She just has to stop being so nice to everyone else.
"She's so unselfish and such a team player that we have to remind her to look to score," says Mustangs' veteran head coach Chico Furtado.
Shanadee giggles when I reminded her of that criticism.
"He told me that he would add one sprint every time I kick it out instead of taking the open shot," she says. "I understand that I have to accept the role and score more."
As a 5-foot 7-inch point guard, Shanadee has been Kalaheo's leading ballhandler since her freshman season. Now a junior, she is growing into the role of one of the state's top scoring threats.
This past week against previously unbeaten OIA-East rival Roosevelt, Shanadee took Furtado's scoring challenge and
took control of the game from the opening tip. She scored 16 of her game high 21 points in the first half. Earlier in the OIA season, against powerful Kahuku, Shanadee scored 25 points, including the game-winning shot in a 76-74 overtime victory.
"My goal is to lead this team and win the OIA," she says. "We want to put a banner up in our gym again."
It's been a few years since that happened. Kalaheo was the perennial OIA champ during the 1990s, including the heydays of former state player of the year Brandy Richardson.
Shanadee doesn't have the powerful post presence of Richardson. Instead, she's what her coach calls "a slasher. She knows how to get to the free throw line and create her points," Furtado says.
Shanadee credits her father, former Farrington basketball star Dwayne Canon, for instilling in her a love of the game.
"My dad inspired me a lot," she says. "We live down the street from the beach park (in Waimanalo), and my dad would take me over there to the courts almost anytime of the day or night. He also took me to the gym and signed me up for clinics."
Eventually, Shanadee was playing the game year-round. She developed a great reputation as a team leader in the Kailua youth leagues. Many of the same girls on those youth teams now play with her at Kalaheo.
"Kaliko Kepa, Brianne Villarosa, Hoku Denning and my cousin Kendra Fischer are all on the team," she says. "Malia Samson and Holly Travis are injured right now, but they're always supporting us, too. We're all really close. It's been a great experience to play with them all these years."
But don't think that Shanadee's life is only about basketball. She also dances hula and Tahitian, paddles and, for the first time this year, she played varsity volleyball for Kalaheo. She's also a good student who hopes to go on to college and study physical therapy or nursing.
And then there's the story of her first name.
"My grandpa named my mom Skydee," she says. "So my mom continued the tradition in our family. My older sister's name is Shashadee, and then I'm Shanadee."
It's ironic, isn't it? The nickname "Dee" usually means defense. But right now, life for the Kalaheo point guard is all about scoring and offense. And offense has another nickname.
To borrow a line from the TV commercial, Shanadee Canon is all about the "O."
Most Recent Comment(s):